Scholarships for future journalists
(China Daily)
Updated: 2008-05-27 11:15
Serge Dumont (right in the picture), founder of Serge Dumont Fund, congratulates Hou Qingyang (left), a winner of the Fifth Serge Dumont-Tsinghua Communications Scholarship Awards.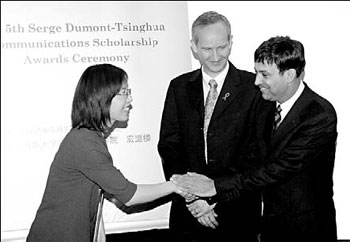 Hou and another Tsinghua University student Zhang Dong were awarded scholarships and three-month internships with the Joint United Nations Program on HIV/AIDS (UNAIDS) in Geneva and Bangkok respectively.
Two other students from the Tsinghua School of Journalism and Communications also won top honors at the Serge Dumont Awards for their essays on the theme of "Chinese Companies and Corporate Social responsibility: Their Role in HIV/AIDS Prevention in China."
Hou and Zhang will work in the communications department of UNAIDS, learning from global health professionals who are tackling one of the world's most serious health threats.
The Serge Dumont-Tsinghua Communications Scholarship is supported by the Serge Dumont Fund, which is managed by the China Youth Development Foundation. Dumont, senior vice-president & president Asia Pacific of world's leading communications company Omnicom Group Inc, established the fund in 2004 . He has worked in Asia and China for more than 20 years.
The scholarships are awarded through an annual essay competition open to students at the Tsinghua School of Journalism and Communications. Dumont established the scholarships to encourage China's future journalists and communicators to become more involved in major world issues and to enter the strategic communications field. So far, 38 students have won the scholarships through the program.
(China Daily 05/26/2008 page8)