Facelift
By JIANG JINGJING (China Daily)
Updated: 2008-05-05 07:26
While Chinese still thought of black and gray Chairman Mao jackets as the "in" fashion in the late 1970s, French designer Pierre Cardin had ambitions to bring his vision to Beijing.
Cardin brought a full-fledged show to the Cultural Palace of Nationalities in April 1979, and tickets were only distributed to "internal" personnel, such as major apparel manufacturers, traders and government officials.
Several dozen garments were demonstrated by about 20 Western and Japanese models. The local audience was shocked to see female models put their arms on male models' shoulders, or make amorous eye contact with each other.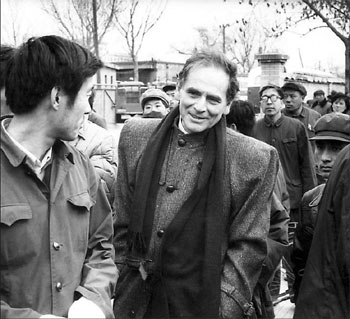 Pierre Cardin talks to the locals in April, 1979.
The Chinese organizers were considerate enough to set up a partition in the middle of the big canvas tent where models changed their clothes: one side for males and the other side for females. To everyone's surprise, Cardin "stubbornly" insisted the partition be torn down.
"Fashion designers, just like surgeons, view human bodies as human bodies. There is no need for privacy here," he said.
Local organizers at the end agreed, but required all staff involved to keep the "incident" confidential.
The show was a breath of fresh air for the privileged viewers. But very few people could imagine ordinary Chinese would one day be able to dress in clothes of "bold-looking foreign brands".
It wasn't until in 1990 that courageous Cardin reached out to seek Chinese partners. And a Tianjin-based apparel producer, which did OEM business for leading global brands such as Calvin Klein caught his attention.
That year, a license agreement was signed between Cardin and Tianjin Jin Tak Garments Co Ltd. With an exclusive license for suits and overcoats in China, Jin Tak has managed the brand -from fabric selection, cutting, stitching and pressing, to distribution and retailing.
Established in October 1987, Jin Tak was a joint venture between Italian-based Gruppo GFT, Hong Kong-based CITIC Group and the Tianjin Textile Group.
Gruppo GFT was one of Italy's largest and most advanced garment producers, marketers and distributors in the world. Of the nine Gruppo GFT factories around the world, Jin Tak was ranked top in terms of quality outside Italy.
Due to Gruppo GFT recent strategy changes, the company sold its stake in Jin Tak to Apple Sino Investment Co Ltd, a Hong Kong-based firm specializing in women's clothes and shoes.
"It (the cooperation between Pierre Cardin and Jin Tak) has proved to be a wise marriage," says Ma Weizhao, deputy general manager of Jin Tak. Ma was involved in the negotiations for establishing the joint venture 22 years ago.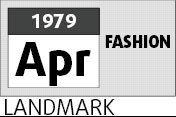 China's fashion industry was just emerging at that time, and local styles were dull-looking and poorly made. There was no quality brand for the mass market. Pierre Cardin, which was then only a second-level brand in the Western market, quenched a thirst here, Ma says. Pierre Cardin suits sold at around 400 yuan at the beginning, and as the country's economy grew its retail price range has expanded to between 3,000 to 20,000 yuan.
"French brand, heritage and design; Italy craftsmanship; quality fabrics; the most important of all was the acceptable price," Ma describes the brand. "The brand was once recognized as a symbol of the successful businessman."
The brand's presence immediately grew from nothing to more than 1,000 points of sale throughout the country. "We actually spent very little on marketing or advertising. It was purely the word of mouth. And the number of our local dealers grew dramatically," she says.
Ma claims that Jin Tak's quality standard was the highest in the Chinese industry - crucial to suit business -due to the technical leadership from Gruppo GFT of Italy.
"Our principle is simple: we use the best materials and the best craftsmanship to make our consumers look elegant and modern, and feel comfortable," she says.
By 1994 and 1995, the company had reached its peak with a profit exceeding 30 million yuan.
Like every sector, fashion too has its ups and downs, and Pierre Cardin experienced a downturn as overseas brands stormed into the local market. The days were gone when dealers lined outside the factory to get the products. Many dealers said the product no longer attracted high-end customers. Pierre Cardin took the original licensed rights for shirts and ties back due to Jin Tak's poor performance.
Company financial reports indicate that Jin Tak's profit dropped to 370,000 yuan in 2006. In the middle of last year, the company was first taken over by the Chinese managers. This year's profits are expected to grow further, says Yang Lugang, the newly appointed general manager of Jin Tak.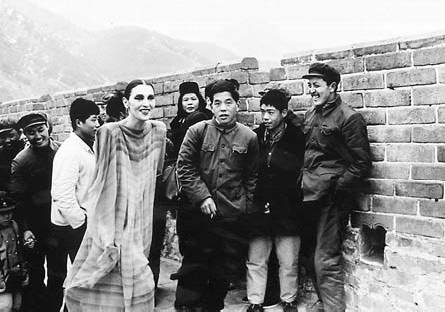 A Western model visits the Great Wall.
Yang is a fashion veteran who started his own apparel business in 1990s.
Yang says he plans to open six wholly owned boutiques in the company headquarters Tianjin and China's fashion capital Shanghai, in a bid to re-construct the brand in the market.
In the past, the company sold through dealers, which blocked the producer from getting the first-hand information from the market, Yang believes.
In the meantime, the firm will continue to focus on the quality control and the selection of fabrics, in an effort to lead the industry.
"My ambition is to grow the revenue from last year's 80 million yuan to at least 100 million yuan this year," he says.
(China Daily 05/03/2008 page2)