Global warning
By SUN XIAOHUA (China Daily)
Updated: 2008-03-31 06:59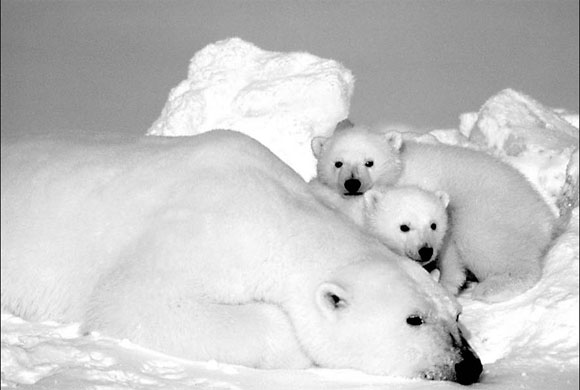 Norwegian polar researchers fear climate change and pollution will accelerate environmental degradation in the Arctic and bring more adverse effects to the globe.
Olav Orheim, executive secretary of the Norwegian International Polar Year Secretariat, estimates that if the temperature this summer is as high as it was last year, there will be no ice around the North Pole.
"Global warming has already sent us a signal - during the six-month dark season in the North Pole, sea ice in the Arctic already became thinner than ever," he says. "Simpler boats could be driven into the North Pole than before."
Orheim made the remarks to a Chinese delegation of college students and journalists who visited Norway in early March as part of a Sino-Norwegian cooperation program.
Melting Arctic sea ice will open new shipping routes and extend the navigation season - the Northwest Passage over Canada and the Northern Sea Route over Russia, he says.
"Although it has long been imagined, the day it becomes a reality will come sooner," he says. "The timetable will be moved ahead in 2009 from the expected 2030."
And new navigation possibilities will bring important economic implications to the world, Orheim says, urging business to be prepared.
But the adverse effects of melting Arctic ice will be severe, he says. Less sea ice will accelerate global warming, raise sea levels and affect world ocean currents and species living on pack ice.
Although melting floes will not directly result in rising sea levels, he explains, more fresh water will flow into the sea, causing it to swell. As more sea water traps more heat, temperatures will climb, more glaciers will thaw and sea levels will rise.
Unexpected melting
"We fear that the Arctic is prepared for melting. The development caused by climate change in the Arctic is worse than Intergovernmental Panel on Climate Change (IPCC) predictions," says Kim Holmen, research director of the Norwegian Polar Institute.
According to reports issued in 2007 by the IPCC, the UN benchmark studies on climate change, five climate models used by the IPCC show that, on average, summer sea ice extent will be reduced by more than 50 percent by 2100, with some models showing that the Arctic will be nearly ice-free in summer by that time.
Holmen says the melting of polar ice and snow will bring unimaginable disaster to the Earth, because snow and ice reflects 85 to 90 percent of heat from the sun, while ocean water only reflects 10 percent.
Apart from climate change, Holmen has other worries about the Arctic ecosystem, caused by pollution from areas at middle and lower latitudes.
For example, polar bears, the top predator in the Arctic, are exposed to elevated levels of persistent organic pollutants (POPs), especially polychlorinated biphenyls (PCBs), which come from industrial use but are being banned now.
According to Norwegian research, the PCB levels measured in polar bears in Svalbard, Norway, are higher than those measured in Canada and Alaska. PCBs are the group of pollutants that are believed to pose the most acute threat to polar bears.
Some threats
The greatest threat to polar bears would be an outbreak of disease that caused an acute drop in population size or a slow decline due to impaired reproduction or survival. Mortality is high among cubs in Svalbard, but scientists do not yet know if this is caused by POPs or whether it can be explained by natural causes.
Apart from pollutants transported from other areas, oil leaking from vessels cruising in the Arctic is another threat to the environment.
"The only way to treat the oil leak is combustion," says Gunnar Sand, director of the University Center in Svalbard. "Although it will cause air pollution, we do not have other measures. We have to save wildlife living here."
Norwegians are taking action to try to fight pollution and mitigate climate change.
Sand says experts at the University Center in Svalbard are experimenting with carbon capture technology and sequestration in Longyearbyen, where the center is located.
Longyearbyen, located at 78 N and rich in coal, has the only coal-fuel power generation plant in Norway, which emits 50,000 tons of carbon dioxide every year.
With a budget of about $50 million, scientists hope they can store greenhouse gas within the mountain at Longyearbyen.
"The difficulty is drilling, which tests the geological possibilities," Sand says. They have already drilled two holes - 500 meters and 800 meters deep - and plan to drill a 1,000-meter hole this summer.
The small town also built a 3-4 megawatt power plant using bio-diesel, as a backup for the 10-megawatt thermal power plant.
One degree north of Longyearbyen is the scientific research base of NY-Alesund, an island where polar scientists from eight countries, including China, work under strict environmental standards.
On the island, waste from daily life and experiments is divided into 28 categories, including packing styrofoam, tin cans, paper, newspaper, rubber, metal parts, clothes, electronic equipment, electronic cables, aluminum cans and plastic.
Oddvar Midtkandal, director of Kings Bay AS, the State-owned company that runs maintenance services on NY-Alesund, says all waste - except organic, which is treated onsite - is catalogued, packed and transported to the mainland to be dealt with.
Meanwhile, the company also plans to replace the 10-year-old power generation unit with a cleaner system that uses a micro turbine.
"Maybe in the future, we will consider using bio-diesel as a fuel for power generation on NY-Alesund," he says.
But with climate change and pollution now global issues, many of the Norwegian researchers are pessimistic about their efforts to save the Arctic. They emphasize that worldwide action is needed.
(China Daily 03/31/2008 page5)