The firm
By XIE CHUANJIAO (China Daily)
Updated: 2008-03-10 07:05
On August 29, 2002, with a contract signed between King & Wood and the Beijing Organizing Committee for the 2008 Olympic Games (BOCOG), China's largest law firm started providing all the legal services for the largest ever sports event in the nation.   
Wang Junfeng, the man who built King & Wood, was deservedly excited, however he says the excitement was soon replaced by a huge sense of responsibility. From the day when King & Wood was founded in1993, it was that sense of "responsibility" that has propelled the firm to the top.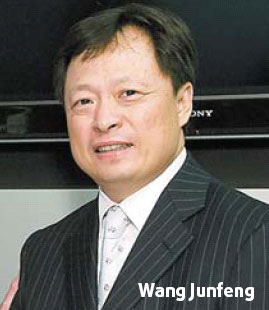 In 1993 Wang and the firm's founding partners were still working with a State-sponsored organization, the China Council for the Promotion of International Trade, when the central government permitted private ownership of law firms. Wang and his partners opened King & Wood.
"At that time our goal was to provide excellent legal services in line with international standards and trends and establish a high-class legal service organization," Wang, now chairman of King & Wood, tells China Business Weekly. This goal took shape while working with the trade council and major international law firms.
"The level of Chinese lawyers at the time lagged far behind (the West)," Wang says.
He says lawyers in China are aware that the European and the US firms in China are powerful forces and Wang hopes to make King & Wood China's first global top-tier law firm.
The firm is expanding very quickly. Within 15 years King & Wood has grown from 5 lawyers to a staff of 1,200, including 600 lawyers and patent attorneys working from offices in Beijing, Shanghai, Shenzhen, Guangzhou, Chongqing, Xi'an, Hangzhou, Tianjin, Hong Kong, Tokyo and Silicon Valley in California. Last year its revenue stood at more than 1 billion yuan, up from the 650 million yuan in 2006.
Wang's strategy is aimed at linking his firm's fortunes to the flow of Chinese capital around the world - much as the big British and American laws firms followed older flows of capital.
And to do that, he says, he needs to ensure that his firm's service improves to match the needs of its clients "not just in China, but anywhere there are Chinese investors there is no limit for us".
However, Wang says he really looks forward to the overall rise of the Chinese legal service sector, and calls for more leadership and guidance from domestic lawyers' associations.
"King & Wood cannot shoulder the full load of the Chinese legal service industry," he says. "Only when the overall sector becomes strong can Chinese lawyers speak with equal power to their international counterparts."
The firm's business now covers almost all areas of the top-of-the-line legal services sector. King & Wood's partners and lawyers act for many global corporations in China, for government, for statutory bodies like BOCOG, and for clients across Asia and around the world.
With China's entry into the World Trade Organization, King & Wood has participated in most of the anti-dumping and anti-monopoly cases representing Chinese enterprises, the Ministry of Commerce as well as industrial associations, making significant contributions to safeguarding their lawful rights among international trade.
The firm has helped more than 300 leading Chinese enterprises in their restructuring, IPOs, and listings on overseas stock markets such as Bank of China, People's Insurance Company of China, China National Petroleum Corporation and Shanxi Datong Coal Mine.
In the past seven years, King & Wood has also worked with the Beijing municipal government on a number of major bidding and foreign-related cases. Additionally, with the firm's help, BOCOG has formulated a legal service system bringing the country's laws in line with international conventions and laying a solid foundation for "an Olympics under the rule of law".
Wang's next logical step for development is the further internationalization of the firm's practice.
Last month the firm announced a strategic alliance with one of Australia's leading corporate law firms, Gilbert + Tobin. Wang says the alliance marked another step toward King & Wood's ambition to become one of the leading full-service law firms in the Asia-Pacific region.
Gilbert & Tobin Managing Partner Danny Gilbert says the two firms would work together in China and across the Asia Pacific region, as well as sharing legal and management skills.
"We're excited to be allied with a leading law firm in the world's most exciting economy. King & Wood's partners and lawyers act for many global corporations in China, for government, or statutory bodies like the Beijing Organizing Committee for the 2008 Olympic Games, and for clients across Asia and around the world," Gilbert says. "The alliance opens up some terrific opportunities. Partners from each firm with complementary skills will work together on projects for clients in China and across the Asia-Pacific."
(China Daily 03/10/2008 page6)