Style & substance
By LU HAOTING (China Daily)
Updated: 2008-02-18 07:30
Restaurateur Zhang Lan often makes headlines for her lavish spending on art dcor.
She paid 12 million yuan for just a few pages of the design draft for her LAN Club restaurant in east Beijing.
She spent nearly 200 million yuan collecting numerous pieces of art from around the world to decorate the restaurant.
She bought an oil painting by Chinese artist Liu Xiaodong for 22 million yuan, setting a world-record auction price for Chinese contemporary art. The painting, depicting a panorama of the construction site of the Three Gorges hydro power project, will be displayed in a new LAN Club soon to open in Shanghai in April.
At Zhang's restaurants, eating may seem like a side-order next to the visual feast.
"Chinese cuisine offers everything from nutrition to taste. But what it lacks is the packaging," says Zhang, founder and chairwoman of South Beauty Group.
"Most people in China didn't know how to present their food. I have changed that."
That business philosophy has been the key to the success of Zhang's catering empire that boasts annual sales of nearly 600 million yuan.
The Beijing-based upscale catering chain has opened 31 South Beauty restaurants in China's most affluent cities since it was established in 2000. The restaurants, mainly serving refined Sichuan cuisine, are popular among white-collar businesspeople and expatriates.
After launching its high-end brand LAN Club in 2006 featuring Chinese and Western cuisine, South Beauty Group dished out another brand, SUBU, at the end of last year. Healthy, natural seafood, organic vegetables and crops are the essence of cuisine at SUBU, which targets young people and is located in the Seasons Place Mall of the Financial Street in western Beijing.
South Beauty Group is now working toward an initial public offering in 2009.
Zhang was named China's fourth richest restaurateur with accumulated wealth of $210 million on the 2007 China Restaurant Rich List by journalist Rupert Hoogewerf, who formerly compiled the Forbes rankings.
Zhang's achievement, on one hand, is the epitome of China's fast-growing dining market. The country's catering business has maintained double-digit growth for 16 years, surpassing 1 trillion yuan in 2006, and is expected to double to 2 trillion yuan in 2010, according to the China Cuisine Association.
Her success also reflects the growing power of women in China's thriving economy. Female restaurant owners occupy one-third of Hoogewerf's ranking of the 15 richest Chinese restaurateurs. Zhang is one of the many formidable Chinese women who have emerged in the country's male-dominated entrepreneurial playground for building something innovative.
More than food itself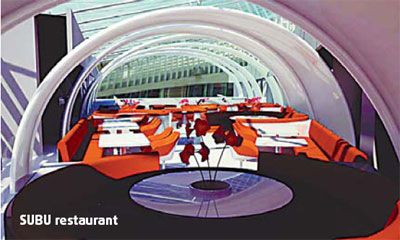 Design, presentation and service are basic restaurant necessities, one might think. But South Beauty Group's continuous attention to these details is still novel in China.
Sichuan food used to be known as the most affordable of Chinese cuisine, and because of this Sichuan restaurants were usually not where diners went for good atmosphere or service.
But Zhang's South Beauty restaurants brought a new cachet to Sichuan dining with upscale dcor, dramatically presented cuisine, and knowledgeable waiters who can tell diners stories about the dishes they serve.
For example, the restaurant's most popular dish is stone-grilled beef: moist slices of beef cooked tableside in hot oil over stones with fiery sauce of chili and garlic. Another dish is stir-fried shrimp, arranged on a plate around a gold fish bowl filled with live fish swimming in it.
"Chinese people should learn how Japanese package their food culture," Zhang says.
"For example, Japanese mochi, so exquisitely packaged, is famous around the world. In fact, it is just a kind of sticky rice dumpling with sweet filling, which is similar to a Beijing snack, ai wo wo. But the obscure ai wo wo can only be found in little grocery stores in the city's neighborhoods," Zhang says.
Combining China's 5,000-year rich history of catering with "proper packaging", Zhang says she is able to make South Beauty the "number one Chinese restaurant brand".
She has clear market positioning: White-collar businesspeople and expatriates. And for these people, she says, dining environment is often equally or even more important than the food itself.
Zhang travels abroad regularly, often visiting international interior decoration exhibitions and fine dining restaurants, which, she says, gives her plenty of inspiration and are the best opportunities to keep up with the latest international trends.
Branding
Zhang made a stir in the catering industry in 2006 when she opened LAN Club, designed by Philippe Starck, a well-known French designer. She paid Starck 12 million yuan for the design draft and the restaurant involved a total investment of 300 million yuan.
"Some people said I threw money about like dirt and 12 million yuan was simply too much for just a design draft. I think they are too conservative," Zhang says.
"Some companies would spend over 100 million yuan advertising on CCTV. Compared with them, the 12 million yuan I spent is nearly nothing. But I got the same, or even greater, publicity. Not everyone in China could have Philippe Starck design their restaurants," Zhang says.
Starck is probably the best known designer in the world for "the New Design" style. His designs range from spectacular interior designs to mass-produced consumer goods such as toothbrushes and chairs.
"LAN Club has helped upgrade the South Beauty Group brand," Zhang says.
"With South Beauty, our market position is going after white-collar businesspeople. As for the CEO class, we didn't really take it into consideration. But five years after opening South Beauty, we discovered there was this other untapped market with its own set of requirements. So we started LAN Club," says Zhang, adding that there will only be two LAN Clubs in China, one in Beijing and the other soon to open in Shanghai.
She says the business at LAN Club, lit by Baccarat crystal chandeliers, is "exceptionally good" and she was able to recoup her investment within two years.
SUBU, opened at the end of last year, is the latest South Beauty Group brand. There is a sushi bar at the restaurant serving "Chinese-style" sushi, wrapping kung pao chicken, stirred-fried diced chicken with chili peppers and peanuts, or yu xiang rou si, stirred-fried fish-scented pork slices.
Danish designer Johannes Torpe designed SUBU's private rooms in the shape of colorful cocoons, reminiscent of space capsules. These rooms feature individual controls for light and music. It also has a lifestyle shop selling SUBU special discs, T-shirt, as well as other fashionably designed products.
Zhang says the key to surviving China's highly competitive catering market is to think outside the box and to surprise the market.
She is now working on a combined art gallery and restaurant.
The restaurant is expected to be located at the foot of the Great Wall. It will also be an art gallery where people can enjoy Chinese cuisine as well as contemporary paintings.
Zhang has been collecting Chinese contemporary paintings over the years. But she says her personal collection would not be enough and she plans to spend 1 billion yuan over the next three to five years finding more artwork for the new restaurant.
After launching about 30 restaurants in affluent Chinese cities, such as Beijing, Shanghai and Hong Kong, South Beauty Group is steadily expanding its network aboard.
South Beauty's first overseas restaurant will open in Tokyo this spring. The restaurant will be located near Prada's flagship store in Omotesando, a major upmarket shopping avenue in central Tokyo.
"We will never open any South Beauty locations in Chinatown," Zhang says.
"With the right market positioning and the right packaging, Chinese cuisine can definitely enter the mainstream society in foreign countries."
(China Daily 02/18/2008 page12)