Slipping stature
By LIU JIE (China Daily)
Updated: 2007-12-10 06:39
Everything needs renewal from time to time, whether it's the faade of a building or the face of a giant multinational corporation (MNC).
Long held in the highest esteem in China, MNCs have seen their image tarnished in recent years by a series of scandals and missteps that have led observers to wonder if their principles and products have slipped as they adapt to the vastness and complexity of the country.
As companies that have invested in China most generously, and before came to embody the best in management and the most advanced technologies, MNCs are indeed having some image problems.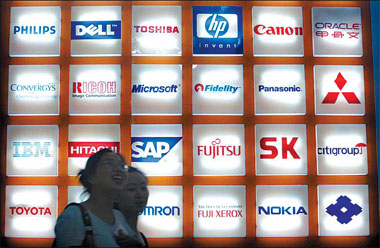 The multinationals that arrived in China in the early stages of its reform and opening up are facing a different China now - and the public is increasingly aware of not only their names, but what they are doing and how they respond to local consumers.
Negative news reports about product quality, environmental negligence, commercial bribery, unethical advertising and poor labor relations in big-name companies like P&G, Unilever, Nike, McDonald's, Nestle and Toshiba have all baffled consumers.
Analysts say it could be the result of fatigue brought by working hard to adapt to rapid changes in the nation over the last two to three decades.
The fatigue, they say, manifests itself in several ways:
Corporate management has not paid enough attention to branding or problems affecting the company's public image in China.
Buried in day-to-day operations, company leaders have not kept abreast of changes in laws and regulations. And when MNCs break Chinese rules, it easily hits the media headlines.
Technology needs upgrading as competitors set up new production lines.
Services are no longer creative or have compelling enough attractions as competitors try new approaches to charm local customers.
On a deeper cultural level, analysts see problems with some overseas - not necessarily foreign - executives' arrogance and ignorance regarding the finer details of customer psychology.
'Foreigners' bribery'
Damaging to MNCs as a whole have been cases of business bribery that emerged one after another in recent years.
In 2004, Lucent Technologies Inc fired four executives at its China operations, including the president, chief operating officer, a marketing executive and a finance manager, for violations of the US Foreign Corrupt Practices Act. The nature and specifics of the violations were not disclosed, but many observers link them to bribery scandals.
Last year, Zhang Enzhao, former chairman of the China Construction Bank, was sentenced to 15 years in prison for taking bribes. Four multinationals including IBM, Cisco, HDS and NCR were embroiled in the case. The four companies are major suppliers of technology solutions to China's banks and financial institutions.
The court verdict said Zhang breached banking regulations when he met senior managers from IBM and NCR several times, according to Beijing Youth Daily. Zhang then accepted bribes from a middleman to try to influence the bank to adopt HDS products, although the technology division finally insisted on accepting IBM's proposal, according to Beijing Times.
In August, Beijing Times reported that small- and medium-sized companies as well as suppliers offered bribes to managers in key posts in Carrefour to win contracts.
According to a report by local consulting company Anbound, of the 500,000 bribery cases investigated in China over the last 10 years, 64 percent involved foreign companies.
"I cannot understand after many foreign companies complain about corruption and bribery in China, then why are they doing similar things?" asks Fan Jingming, a Beijinger who participated in an online survey by global market research company Ipsos. termed "MNCs in Chinese People's Eyes 2007."
It isn't just bribery scandals that have rocked the reputation of some MNCs. P&G's SK-II cosmetics were found to have a hazardous substance, McDonald's underpaid part-time workers, Foxcoon and Nike were accused for exploiting laborers, Kraft and Heinz used genetically modified ingredients they promised not to use in developed markets, while beverages produced by Coca-Cola and Pepsi contained more benzol than allowed.
About 90 foreign-invested companies, including KFC, Pepsi and Carlsburg, have been found since 2004 to be in violation of Chinese regulations on discharging waste, according to a recent report by the Institute of Public and Environment Affairs, a local non-governmental environmental protection organization.
Some MNCs also decline to cooperate in investigations when their products or actions are called into question. When Sanyo China's EM-2010EB1 microwave oven was discovered last month by the Beijing Industry and Commerce Administration Bureau to contain excessive amounts of toxic metals that may cause cancer and pose a serious threat to the environment, the Japanese company argued that it was not a quality problem and refused to recall the microwave.
Consumers are wondering why bad practices have begun to emerge.
Less-than-mature oversight and regulation have other impacts as well.
Seung Ho Park, president of Samsung Economic Research Institute (SERI Beijing), notes that if MNC products have problems in advanced countries, they are forced to stop selling them and recall products that have already been sold. If they are found to be guilty of fraudulent activities, firms must pay a heavy fine.
"In contrast, the Chinese government only levied a 200,000 yuan fine on P&G for placing a misleading advertisement for the SK-II cosmetic brand in 2005," he says.
As well, some MNCs do not abide by established global standards when operating in China. Even though they set high standards for product quality, technology and after-sales service elsewhere, some operate with lower standards in China.
Peng Xizhe, professor of social sciences with Shanghai-based Fudan University, says "some of the transnational companies are fond of attempting to test the limits of Chinese laws and ethical principles".
"It is the MNCs that introduced the concept of corporate social responsibility (CSR) into China," says Wang Lingyi, professor with Shanghai Academy of Social Sciences. "The basic requirements for a responsible corporate citizen are business honesty, fair competition and humane employment, It is a pity that a group of the companies cannot obey the rules here."
Mixed results
An online survey by Paris-based research firm Ipsos conducted in June and July found that 34.2 percent of the 1,000 respondents from key Chinese cities believe domestic companies do a better job in CSR than multinationals do. More than 73 percent said they are strongly opposed to foreign companies who move polluting industries to China. Another 82.5 percent of netizens were critical companies that submit suspect accounting figures to avoid paying tax in China.
Yet there is no doubt that MNCs have made significant contributions to China's development. From 2001 to 2006, foreign trade volume, export volume and import volume of overseas companies made up more than 55 percent of those sectors in the nation as a whole, according to the Ministry of Commerce - more than half of foreign trade was generated by MNCs.
Last year, 88 percent of China's hi-tech exports were from MNCs, helping to enhance the country's foreign trade structure.
Sources from the State Administration of Taxation say that from 2001 to 2006, about one-fifth of China's tax revenue was generated by MNCs, from both business and individual taxes, compared to 11.37 from 1992 to 2000.
As well, nearly 1,000 MNCs have established research and development (R&D) centers in the country, which not only improves China's R&D capacity but also helps train highly trained research professionals.
Chinese awareness
"For MNCs, depending on PR activities and social donations to build their corporate image is no longer adequate in China as the legal system is being updated and industrial criteria are catching up with the world level," Wang says.
Opinions about MNCs in China have changed dramatically since the late 1970s when the nation opened its economy and welcomed foreign direct investment. Global players like Volkswagen, Coca-Cola and 3M began exploring the market at that time.
During the 1980s, other MNCs including Motorola, Philips and NEC were received with open arms. They enjoyed corporate tax rates half those imposed on local companies and they paid no duties on their imported manufacturing materials.
Even into the 1990s, as China and its people developed a better understanding of MNCs, foreign companies were the object of admiration.
At that time Chinese consumers had almost unconditional preference for MNCs' products and services, according to an SERI report.
But since 2000, when the per-capita gross domestic product climbed above $1,000, and then accelerating after 2001 when China joined World Trade Organization, awareness about fair competition has been on the rise.
MNCs are now no longer always seen as superior to local companies. "The coming equalization of the corporate tax rates from the beginning of next year between local and foreign companies attests to this," says Park of SERI.
Chinese media have been quick to pick up on MNC blunders, thanks to the freer and more open social atmosphere and more transparent governmental administration.
At the same time there are already more than 160 million Internet users in China, many getting the latest information and filling online billboards and chat rooms with comments and opinions.
"The cachet of the MNC is no longer there. Savvy shoppers now emphasize objective details and product quality," Park indicates.
At the same time, the Chinese public is paying more attention to whether multinational companies operate in accordance with laws and ethics and meet social responsibilities, Professor Wang says.
PR strategies and ceremonies for social donations will no longer take the place of proper performance as big multinationals need to renew their models in China, just as they had to do in their home countries, both Park and Wang agree.
(China Daily 12/08/2007 page1)