Climate of cooperation
By SUN XIAOHUA (China Daily)
Updated: 2007-12-03 08:51
Putting people first is the most fundamental issue in addressing climate change, says Khalid Malik, UN resident coordinator and UN Development Program (UNDP) resident representative in China.
"Whether climate change is a developed-country issue or a developing-country issue, there is one planet we have," he says, pointing out that although no one on the planet will avoid the adverse impacts of climate change, poor people will suffer most.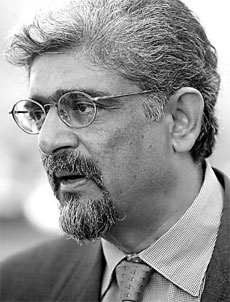 Khalid Malik
"We have to move to a low-carbon economy. It is a huge challenge. No one has the answer, but I think that is the way we move."
Today, the 13th Conference of Parties to the UN Framework Convention on Climate Change starts in Bali, Indonesia. Delegations from about 180 countries are gathered around the negotiating table, trying to shape the global climate-change policy that will follow the Kyoto Protocol, which expires in 2012.
"Climate change is now a common concern for all humanity as a whole to be dealt with through concerted global action," he says. "Developing countries such as China, which are rapidly growing in emissions, should play a lead role to find common solutions and take a crucial position in the effort to save our planet."
But this must take place under the principle of Common but Differentiated Responsibilities, he says.
China, as a developing country, was free from a binding target of greenhouse gas emission reduction under the Kyoto Protocol. But it is still making its efforts together with the international community to fight global warming.
China plans to cut energy consumption per unit of GDP by 20 percent from 2006 to 2010. The move will help the country to save 600 million tons of coal equivalent and eliminate the emission of 1.4 billion tons of CO2 equivalent, about one-fourth of its current emission total.
And under a 2005 renewable energy law, by 2020, China will be producing 17 percent of primary energy from renewable sources - more than twice the level of today.
"China's goals to radically increase its energy efficiency and use renewable energy are very ambitious," Malik says. "Few other countries have such strong targets."
Now the challenge is implementation, he says. To get this done, China should quickly scale up financing, technology transfer and public-private partnerships.
Meanwhile, so-called "South-South" cooperation will be critical. China, India and other emerging economies can find solutions together.
Malik urges the country to address both mitigation and adaptation on the issue of climate change.
"Mitigation means to stabilize greenhouse gas emissions, while adaptation means how to keep and improve people's quality of life during climate change, based on the fact that global warming is accepted" as a certain trend.
By 2020, average temperatures in China are projected to be between 1.1 and 2 degrees C above the 1961-1990 level, according to Human Development Report 2007/08, entitled "Fighting Climate Change: Human solidarity in a divided world", released by UNDP last week.
The report says if current emission patterns continue, two-thirds of China's glaciers, including Tianshan Mountain, are likely to disappear by 2060 and the remainder will be gone by the end of the century.
"Because of the melting snow, rivers will rise sharply at first, causing floods. Then the water volume will drop, resulting in a loss in grain productivity," Malik says.
The report estimates that half of China's 128 million rural poor and 40 percent of the country's land area, which accounts for one-third of GDP in the country, may be affected.
"Failure to act on climate change will have grave consequence for human development in poor areas. It will undermine efforts to tackle poverty," Malik says.
"We have to engage citizens directly on these issues through expanded awareness raising activities."
Meanwhile, he calls for changes in house design, urban planning and lifestyle in China to adapt to climate change.
He also calls for a new technology transfer mechanism, which will be discussed on Bali meeting, to help China shift to a more carbon- neutral economy.
Malik says the UNDP is keen to support China to reach its green goals.
A UN-China Climate Change Partnership Framework, aiming at helping China better mitigate and adapt to climate change, will start next year.
The three-year program with a total funding of $19 million will be designed to push new technology transfer, establish a green investment mechanism, help China work on post-Kyoto strategies after 2012, set up local technology pilot projects on clean coal, increase energy efficiency and develop renewable energy, including climate change adaptation in future development and investment plans, Malik says.
(China Daily 12/01/2007 page3)