Fund and Games
By WANG ZHENGHUA (China Daily)
Updated: 2007-08-27 07:03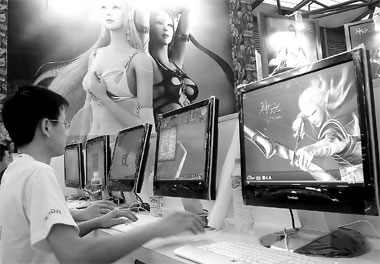 SHANGHAI: The nation's thriving online game outsourcing industry is increasingly convincing venture capital firms that investment is worth the risk in what could develop into a leading global industry.
Revenue from China's online gaming industry reached 6.5 billion yuan in 2006, surging 73 percent over a year earlier, and could quadruple by 2011 as Internet access becomes more widespread, according to market researcher IDC.
The rapid growth in online gaming is also creating opportunities for other industries such as telecoms, Internet service providers, and computer, software and consumer electronics makers, which earned a combined 33 billion yuan from online gaming last year.
China-made online games, with a 65 percent domestic market share and $20 million in export revenues last year, are beginning to break the traditional domination of South Korea and Japan.
Perfect World, a game produced by Beijing Wanmeishikong Network Technology Co, has been successful in Japan, earning $2 million in 2006, the first time a Chinese company entered the "kingdom of games".
A flourishing online game industry is accelerating development of game outsourcing services, a trend sensed by some sharp venture capitalists.
Independent market research firm Screendigest says that "a quiet revolution is transforming the game industry as developers turn to outsourcing". The global market for game outsourcing will reach $2.5 billion by 2010 - representing 40 percent of the total spent to develop video games.
Game outsourcing
In Shanghai alone there were about 50 online game outsourcing enterprises at the end of 2006 employing a total workforce of 4,300, up 60 percent from a year earlier.
Winking Entertainment, China's largest online game outsourcing company, recently announced it has received $8 million in a second round of funding from NIF SMBC Ventures Asia.
Last April the Shanghai company received more than $1 million in investment from Intel and HSBC.
Virtuos Holdings Ltd, another Shanghai outsourcing company, obtained an undisclosed amount of venture funding last year from Legend Capital, a subsidiary of Legend Holdings, owner of Lenovo Group.
"Online game outsourcing is maintaining an annual growth of 30 percent in China and has the greatest potential and is the fastest-growing sector in the global game industry," says Winking Entertainment CEO Gary Zhang.
"There is a growing trend that online games are offered to customers free of charge, which results in a shortened life cycle for each game," he adds.
As a result, game developers need to attract and keep clients by adding new elements, which will further boost outsourcing services, he says.
Analysts now say that the art and designs of Chinese companies have reached a world-class level, while they have a better understanding of the local market and cultural background, which gives them an advantage over South Korean and Japanese counterparts.
Advantage
"Our advantage is that we know more about the Chinese market than foreign manufacturers," Zhang said.
He remembers that even three years ago foreign companies had their online games outsourced in China because of its low production costs. But now it is not only about the cost, but great market potential as well.
"The United States and Japan have rushed to the market, which means they have to find a Chinese partner to sustain the business. Conflicts between foreign companies and domestic operators (are common), as we can see from the past," he says, adding that well-developed outsourcing companies like Winking might be the best solution.
"We do a market analysis when we develop each new game. We survey the users and players both on the Internet and in reality when we start to design. The design is very important because it is the major attraction to players. We learned that from operators," Zhang says.
But not all venture capitalists are sure it's proper time to invest in the industry, despite a consensus that game outsourcing service has great potential.
Chen Guangwei, a partner of BlueRun Ventures, says that venture capitalists still need patience. The structure of profits in the game industry is different from that of the general software outsourcing industry, he says, adding that it might be good timing only when a company grows to a scale of 2,000 employees.
In Shanghai about 20 to 30 companies in the business have no more than 50 employees, who mainly work at simple art and small game designing.
(China Daily 08/27/2007 page4)