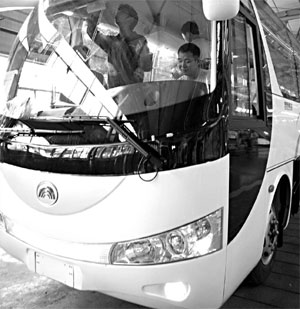 Ten years ago buses traveling the highways of China were mostly of foreign manufacture, especially made-in-Japan coaches, but today the country's passenger transportation needs are met by vehicles engineered and made at home.
As well, in many locales outside the nation, Chinese buses have become a familiar sight on the road.
One is the small Middle Eastern country of Qatar, where there were only 200 buses before the arrival of Higer coaches.
Some 800 Higer buses now transport Qataris to school and around the capital city Doha, and also on short- and long-distance trips. The name of Suzhou Kinglong, maker of Higer buses, is now familiar symbol of passenger transportation in the wealthy Arabian country.
In a January survey by the Cuban newspaper Juventud Rebelde, Cuban bus drivers praised the Yutong buses they drive that are made in China.
The newspaper surveyed Yutong drivers after Cuban traffic authorities reported 437 bus accidents in Cuba since July 2005, but none involved a Yutong bus.
While some bus exporters have encountered difficulties on their route to export success, their coaches are now welcomed in many countries around the world.
"In the next three to five years, more and more Chinese buses will be exported to Europe and America", predicted European consulting firm Capgemini in 2005. "China will be not only a bus manufacturing giant, but also a bus export power."
The projection has now become reality.
Statistics from the Trade Association of Coach and Bus Operations show that China produced 38,900 large-sized buses and 55,900 mid-sized buses with a value of 30 billion yuan in 2005, accounting for one-third of the world's total.
Yet the country exported 5,756 buses that year, accounting for only six percent of the global total. The nation's bus exports experienced a breakout only a year later.
According to China Bus Information Center, domestic bus manufacturers traveled the globe seeking opportunities and China's bus exports showed the result, with sales topping 11,488 units in 2006, 117.45 percent higher than the figure of the previous year.
The most remarkable growth comes from Suzhou Kinglong, whose exports grew by 409 percent over 2005.
"We reaped great benefits in the global bus market last year, generating $81.63 million from the sale of 1,548 buses. This is significant compared to the $15 million we made from exports in 2005 and the $3 million we made in 2004," says Xu Jianzhong, vice-general manager of Suzhou Kinglong.
And the trend is continuing this year.
In January, Suzhou Kinglong announced that it won an additional order from Qatar for 300 more Higer buses, a result of their performance during Doha Asian Games last December.
The smallest country to host the Asian games, Qatar purchased 500 Higer buses, valued at 300 million yuan, from Suzhou Kinglong to shuttle athletes, officials and media from all over the world to various venues during the games.
It was the first time Chinese buses served such a global event, selected over the likes of German-made Mercedes-Benz and MAN buses.
Yutong, China's top bus producer, exported 1,300 units to Cuba out of its total exports of 2,002 buses in 2006, and plans to further export another 5,000 to the island nation in three years. The first shipment of Yutong buses was received last February at a ceremony hosted by Cuban leader Fidel Castro.
According to Huatai Securities, Yutong has confirmed the export order of over 1,000 units this month, excluding the coaches to Cuba.
On March 28, 500 JAC buses produced by Anhui JAC Automotive Co Ltd set out for Algeria from its headquarters in Hefei of Central China's Anhui Province to promote the company's exports.
The company sold 510 coaches abroad in 2006, but in the first quarter of 2007, 700 units were outbound, an increase of 137 percent compared with the same period last year.
Dongfeng Motor Co signed a deal with Egypt in the first quarter of this year for the export of bus chassis. The first shipment of 800 units will be sent to the African nation within the year.
The order follows the corporation's largest deal last year, when it exported 1,000 buses to Ukraine.
She Zhenqing, chief analyst of China Bus Information Center, predicts that "by 2010, exports of made-in-China buses will account for 30 percent of world's total."
Growing markets and quality
Although the average bus price is still low compared with the products from MAN and Volvo, the price of Chinese buses increased from an average of $16,400 per unit in 2004, to $30,100 per unit in 2005 to more than $33,750 each last year.
Yutong's buses sold to Cuba even reached as high as $70,000 per unit last year.
Chinese bus makers also began to find their own trade opportunities instead of the waiting for orders as was often the case before.
Xu of Suzhou Kinglong tells China Business Weekly that when the Qatar government prepared for the Asian Games, they first thought about European buses. "Once we got the information, we invited the officials to our Suzhou factory to know the Kinglong bus," he says.
"Due to our active approach, Suzhou Kinglong got the big order from the rich Arabian country," Xu adds.
Xiamen Kinglong last year signed a cooperation agreement with Ukraine to export 500 complete knocked down (CKD) buses within two years.
Zonda Industrial Group in Yancheng of East China's Jiangsu Province also exports CKD units to Vietnam, with 50 assembly sets sent last year and 2,000 more CKD units scheduled this year.
Domestic bus producers started to target developed regions last year after previously focusing on developing countries.
Chinese branded buses are now commonly exported to developing nations in Eastern Europe, the Middle East, Southeast Asia, Africa and Latin America.
And some bus makers that have successful and stable footholds in developing countries have awakened to the potential in the developed nations of Europe and North America.
"Europe is the next keystone of our international program, not only because of the huge market potential there, but also because it has the strictest market standards in the world," says Xu of Suzhou Kinglong.
(China Daily 04/23/2007 page5)