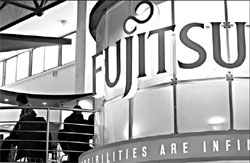 Seeking the truth from facts is a core philosophy of the Communist Party of China, developed by Mao Zedong 70 years ago, but now it has become a catchphrase for Haruhito Takeda, general manager of Fujitsu China and other top executives.
While many Japanese companies in China are criticized as slow to localize their operations to adapt to the world's fastest-growing economy, Takeda, using that philosophy, thinks his company has found a key to success. Nantong Fujitsu Microelectronics Co Ltd, in which Fujitsu has a stake of almost 39 percent, gives testament to the effectiveness of the theory.
When Nantong Fujitsu, a semiconductor packaging and testing factory, opened in 1997 in Nantong, a city beside the Yangtze River in East China's Jiangsu Province, it had only two foreign customers Fujitsu and Siemens, a strategic partner with the Japanese firm.
A decade later, nine of the top-10 largest semiconductor makers in the world are its customers and the firm has become the largest domestic chip packaging and testing company in the world's biggest semiconductor market.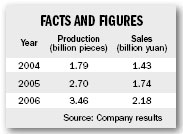 Nantong Fujitsu processed 3.46 billion chips and generated sales of 2.18 billion yuan in 2006, compared to 181 million pieces and 99.8 million yuan in 1998.
"When Japanese companies first came to China, they wanted to combine Japanese technological strength with the manufacturing capability in China, so Japanese businesses usually wanted to control their joint ventures," says Takeda.
But after a comprehensive review of the strategy, Takeda who has led Fujitsu China for 10 years says that strategy did not prove successful and it became imperative for Fujitsu to adapt different business models to fit different operations.
Many Japanese companies choose to have a Japanese manager lead their subsidiaries or joint ventures, Fujitsu decided to let Chinese partners run Nantong Fujitsu, taking advantage of the Chinese desire for high growth and knowledge of the local market.
Takeda says letting Chinese take the lead also stimulates local management to run the business better and gives more room for local talent.
Starting in 2006 the Japanese electronics and information services firm even stopped assigning a deputy general manager to Nantong Fujitsu, positioning itself instead as a tutor in technology and management. Now there are just six Japanese employees at the joint venture in positions such as production management and technical supervision.
Fujitsu still keeps three seats on Nantong Fujitsu's 11-member board the other eight include four from Chinese investors and four independent directors so that the company can guide the development of the joint business in line with its own strategic needs.
At the same time, both the Chinese and Japanese sides are working together to drive the growth of the joint venture.
Shi Mingda, chairman and general manager of Nantong Fujitsu, says that while Chinese management likes thinking about the big picture on strategy, the famous fastidiousness about quality and detail from Japanese investors reminds Nantong Fujitsu not to pursue high growth at the cost of quality.
"Our core competence is Japanese quality at Chinese costs, which is almost invincible in the market," says Shi.
He reveals that his company is expected to make an initial public offering (IPO) on a domestic stock market to raise over 400 million yuan this year.
Instead of worrying about a dilution of Fujitsu's interests, Takeda believes it also adds another guaranty of his company's control over the firm.
"With the IPO, a better corporate governance will create a more transparent structure of Nantong Fujitsu, which is good for us too," says Takeda.
He adds that giving more authority to the local management team does not mean the role of Nantong Fujutsu in Fujitsu's blueprint for unifying its resources will be weakened, but rather strengthened.
In 2006, the Japanese firm made a strategic aim to increase the contribution from its overseas business to 50 percent by 2010, with China alone contributing 10 percent.
To do that it began restructuring its Chinese operations to form a united Fujitsu by concentrating all resources on key markets, such as semiconductors, telecom solutions and information technology.
As Fujitsu streamlines its businesses, its Tokyo headquarters will give more responsibility to the Chinese venture to reduce costs and increase global competitiveness.
The Japanese company will also consolidate its 39 subsidiaries and joint ventures in China to generate synergy.
Fujitsu's wholly owned semiconductor design house in Shanghai will also bring more customers to Nantong Fujitsu and it will build a joint design house close to Nantong Fujitsu, so both businesses can increase competitiveness by providing value-added services.
"With joint efforts from Chinese and Japanese investors, we have become the largest domestic semiconductor packaging and testing company and our goal for the next three to five years to become one of the top-10 in the world," says Shi, adding his firm currently ranks about fifteenth globally.
According to Shi, Nantong Fujitsu will invest more than 200 million yuan over the next four years to more than double its production capacity to 8 billion chips a year and sales to 5 billion yuan by 2010.
(China Daily 04/09/2007 page5)