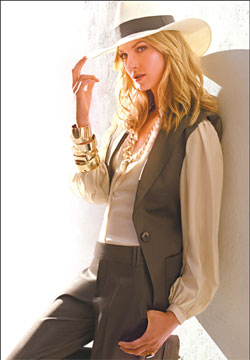 Having established its mainland base camp with two outlets in Shanghai a year ago, Spanish brand Zara created a buzz in Beijing when it opened an outlet there last month.
The 1,500-square-metre store in The Place shopping mall, a newly built complex in Beijing's Central Business District, sells womenswear, menswear and kidswear.
The company has done well in Shanghai and is very confident about business in Beijing, as company leaders say Zara has earned potent brand recognition in the market.
Victor Herrero, managing director of Zara China, says that the stores in Shanghai are always packed with customers, although he refuses to provide exact sales figures.
"The shops in Shanghai are as busy as those in other mature markets such as in Paris and London on both weekdays and weekends," he says.
"We plan to consolidate the bases of Beijing, Shanghai and Hong Kong and further develop the surrounding urban areas," says Jesus Echevarria, general manager of Zara's parent company Inditex.
Echevarria says the company will expand step by step, rather than pushing full-speed-ahead into the Chinese market.
"We want to gain experience from each shop, adjust our strategy and then make a new decision," he says.
Zara has set up five stores in Hong Kong since it opened its first store there in 2004.
Shaun Rein, managing director of the China Market Research Group, says it's wise for Zara to expand its China operation at a cautious, step-by-step pace, because doing so would allow it to drum up a buzz in both major and surrounding cities.
For example, Rein explains, a customer in Hangzhou might regularly travel to Shanghai to buy Zara garments. If this customer one day learns that Hangzhou will soon have its own outlet, the customer will become excited and will be inspired to shop there.
Zara offers a simple explanation for its success: It delivers new stock to its stores twice a week, and new stocks always include new designs. Zara produces more than 19,000 different designs a year.
In order to do this, Zara's parent company Inditex must break the traditional business mode, which goes from design to sourcing to stores to customers. Zara's model instead starts with customers and then goes to stores, designs and sourcing.
"In this trendy world, we find it to be crucial to learn from customers and quickly respond to their requirements," Echevarria says.
Inditex works with about 900 different suppliers and factories, including 12 directly owned factories in Spain. These 12 core factories produce the most important and fashionable clothes, which will be presented on stores' display shelves.
More than half of Zara's products are made in its production bases in Spain, Portugal and Monaca; 30 percent are sourced from Asia and 20 percent are sourced from Eastern Europe and the Americas.
China produces about 13 percent of the commodities.
In addition, the company uses an efficient logistics system. Once its distribution centers receive an order, they can deliver to shops in Europe within 24 hours and in the Americas and Asia within 48 hours.
Rein says that another reason for Zara's success is its pricing strategy, which offers prices suitable for both wealthy and non-wealthy consumers.
However, Rein points out that Zara needs to closely monitor its product quality.
Zara clothes are considered cheap in Europe and the Americas, but not in China. A Zara summer dress, for example, costs 499 yuan twice as much as medium-end brands in the market.
"If the product falls apart too quickly, that will upset the local customers," Rein says.
For its upcoming spring and summer womenswear series, Zara is concentrating on creating ultra-sophisticated fabrics with modernist prints.
The trend of this season has been the return of revamped ethnic styles.
Spring will feature subtle hues, while summer will feature contradictions and curious combinations such as futuristic and sporty looks fused with elegant and delicate styles.
Menswear will feature suits with subtle splashes of color and a touch of sophistication reminiscent of the Riviera summer style.
Globally, Inditex Group operates 3,100 stores in 64 countries. It has eight sub-brands: Zara, Skhuaban, Pull and Bear, Massimo Dutti, Bershka, Stradivarius, Oysho and Zara Home.
Inditex posted global revenues of 5.7 billion euros for the first three quarters of 2006 an increase of 22 percent over the previous year.
(China Daily 03/05/2007 page6)