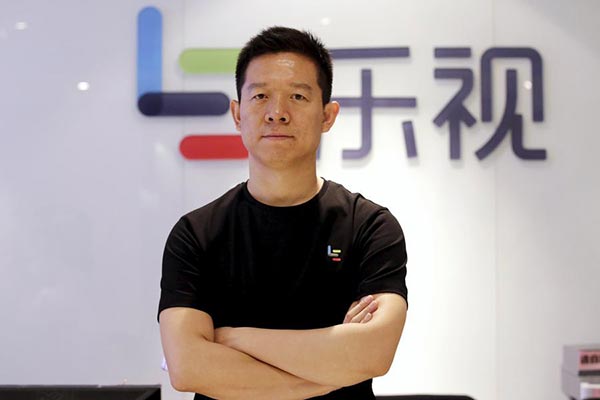 Jia Yueting, co-founder and head of Le Holdings Co Ltd, poses for a photo in front of a logo of his company after a Reuters interview at LeEco headquarters in Beijing, China, picture taken April 22, 2016.[Photo/Agencies]
Chinese tech company Le Holdings Co Ltd, also known as LeEco and formerly as LeTV, has invested nearly 3 billion yuan ($460.2 million) to tap the domestic property sector.
Shanghai Shimao Co Ltd said in a statement issued late Monday that it will transfer 100 percent stake in its two units, Beijing Fortune Times Property Co Ltd and Beijing Baiding New Century Commercial Management Co, to LeEco for 2.92 billion yuan and 52 million yuan respectively.
It's not the first time that LeEco has invested in the real estate industry. In November, LeEco bought 400,000 square kilometers of commercial and residential land for 421 million yuan in Longxing town, Southwest China's Chongqing municipality.
According to the statement, Shanghai Shimao is estimated to earn 700 million yuan from the transaction. Meanwhile, the company will cooperate with LeEco in diversified regions to optimize its business structure.
Aside from LeEco, some domestic internet firms have entered the housing market. In 2014, Lei Jun, founder and CEO of China's tech company Xiaomi, invested 100 million yuan in YOU+ International Youth Apartment, a rental service for those aged below 45.
Founded in November 2004 by Jia Yueting, LeEco is engaged in myriad businesses, spanning from television, smartphones, automobiles, video, sports, internet finance and cloud services.
Last month, LeEco held a "cross-category" product launch, showcasing new devices, including the Le 2 smartphone series, super television, Le VR and a self-driving electric vehicle LeSEE.