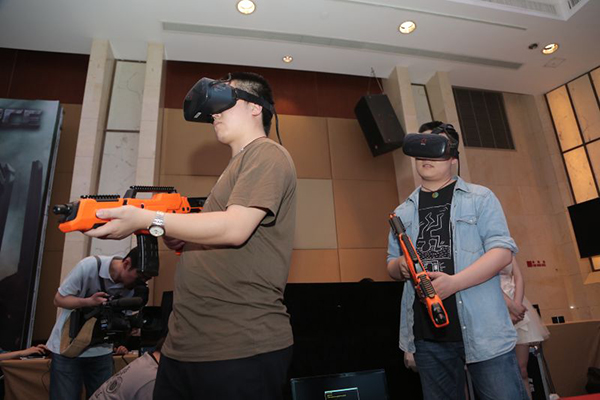 Two players demonstrate a mobile VR game by wearing DeePoon's all-in-one VR headset during the company's strategic announcement press event held on May 12, 2016 in Shanghai. [Photo provided to chinadaily.com.cn]

At least 200 startup companies are working in domestic VR industry amid soaring growth
Hip-hop dancers, military marchers and daredevils in winged suits are bringing China's internet titans into the world of virtual reality.
The video stars have joined South Korean pop idols and animated fireflies as central players in a $1.1 billion global VR spending spree that's being fueled by Alibaba Group Holding Ltd, Tencent Holdings Ltd and Baidu Inc.
The three Web giants are using their money to employ a different perspective on the virtual-reality business than their overseas competitors.
Instead of building headsets like Sony Corp, Facebook Inc and HTC Corp, the Chinese companies are positioning themselves as middlemen: seeding dozens of startups and opening their platforms to developers of content and hardware while they wait for a dominant headset to emerge.
"All three of these companies want to focus on creating platform and content," said Ricky Lin, a Beijing-based analyst at IResearch.
"The issue facing China's VR industry at this point is that it lacks core technology, so they need to hedge their bets."
The gambit means to capitalize on a domestic VR market expected to grow by 36 times in the next four years to 55 billion yuan ($8.5 billion).
The spending comes as the government tries to bolster the slowing economy through innovation and reducing its dependence on heavy industry.
The country began a campaign to support entrepreneurship in 2014 and has opened 1,600 high-tech incubators for startups. At least 200 startups are working in China's virtual-reality industry, according to IQiyi.com Inc, a Baidu unit. Venture-capital investments in China surged about 50 percent to $12.2 billion in the first quarter, according to London consultancy Preqin Ltd.
In that same period, about $1.1 billion was invested in the VR industry, according to California-based Digi-Capital.
"A lot of people think this industry will mature fast with the push of capital and media," said Duan Youqiao, who oversees IQiyi's initiative.
"The VR industry right now is like when we were still living in the ages when horses pulled carriages."
Baidu, Alibaba and Tencent - often referred to collectively as BAT - have a combined market capitalization larger than Israel's gross domestic product.
China's VR market is expected to reach 55 billion yuan in value by 2020 from 1.5 billion yuan last year, according to Guangzhou-based researcher iiMedia.
The segment with the most initial promise is online video, since about 504 million Chinese regularly use streaming sites, according to government figures.
Immersive video and game applications could be the first VR industry to mature, according to China's Ministry of Industry and Information Technology.