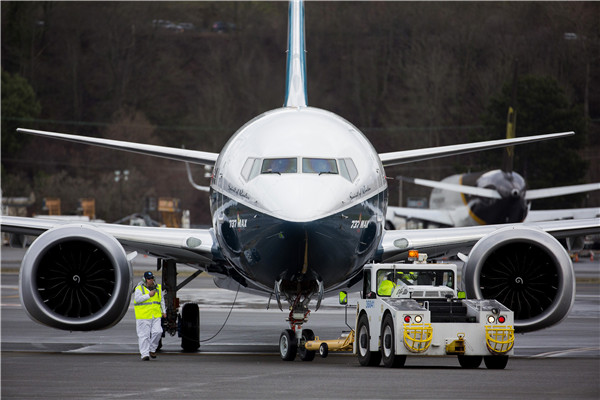 Ground staff tow in a Boeing 737 jet after landing at King County International Airport in Seattle, Washington.BLOOMBERG
BOC Aviation Ltd, the aircraft leasing unit of Bank of China Ltd, has attracted investors including Boeing Co and the Chinese sovereign wealth fund to buy shares in its $1.1 billion initial public offering in Hong Kong.
China Investment Corp and the Silk Road Fund have agreed to each invest $100 million in the offering, while Oman Investment Fund will buy $50 million of stock, according to terms for the deal obtained by Bloomberg.
Boeing, the world's biggest planemaker, committed $30 million, and Chinese billionaire Guo Guangchang's Fosun International Ltd will purchase $35 million of shares, the terms show.
Spurred by strong economic growth in the past decade and rising incomes in the world's two most-populous countries, China and India, Asia is on course to beat the US as the biggest plane-leasing market, according to Airbus Group SE and Boeing.
That potential has lured billionaires such as Li Ka-shing and budget-carrier pioneer Tony Fernandes to the industry, where returns from multiyear contracts can exceed those of airlines.
"Aviation is a growth sector, so they are clearly raising capital to fund expansion," said Zhang Qi, an analyst with Haitong Securities Co in Shanghai.
"Going public is also a way to diversify risks. It would be too risky for a company to just depend on debt and loan instruments alone."
Domhnal Slattery, chief executive officer of Dublin-based lessor Avolon Holdings Ltd, said in an April interview that China will become the "single-most important market" for plane-leasing companies over the next five years.
Bohai Financial Investment Holding Co, the leasing arm of Hainan-based conglomerate HNA Group, completed its $7.6 billion acquisition of Avolon in January.
With this IPO, BOC Aviation will become the second dedicated Asian air lessor to go public, after smaller competitor China Aircraft Leasing Group Holdings made its debut in Hong Kong in July 2014.
BOC Aviation and its controlling shareholder are offering a combined 208.2 million shares in the IPO at a fixed price of HK$42 apiece.
The company has agreed to sell shares to 11 cornerstone investors, who will take up 52 percent of the base offering, the terms show.
China Development Bank Corp will invest $60 million in the share sale, while China Life Insurance Co and Chinese private-equity firm Hony Capital Ltd will each purchase $50 million of stock, the terms show.
BOC International Holdings Ltd and Goldman Sachs Group Inc are joint sponsors of the offering. BOC Aviation management will meet investors through May 23, according to the terms. The company aims to begin trading June 1.