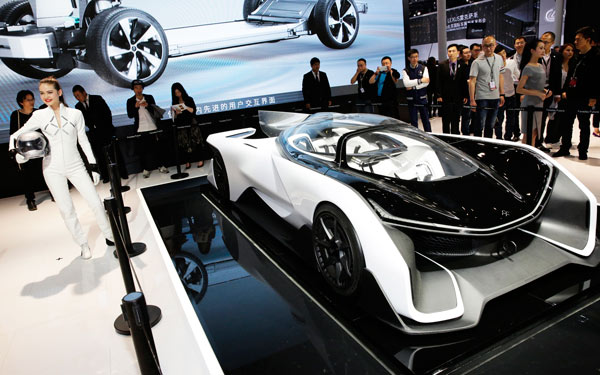 A new-energy car developed by LeEco on display at an auto show in Beijing last month. LeEco will establish its North American headquarters in San Jose, which will also be the future home of its self-driving R&D center.[Photo/China Daily]
Deal points to expansion plan for Chinese firm involved in phones, TVs and mountain bikes
Tech giant Yahoo Inc has reached a deal to sell a 20-hectare undeveloped site in Santa Clara, California, near the heart of Silicon Valley and 6 kilometers from the company's Sunnyvale headquarters, to Chinese internet company LeEco Holdings Ltd, according to the Silicon Valley Business Journal.
Yahoo has revealed that it might sell real estate as part of its restructuring plan, and media reports said in December that Yahoo was preparing to sell the site.
The deal has not yet been closed, according to the new report. And the purchase indicates a rapid expansion plan for LeEco, which has been involved in diverse businesses, making phones, TVs, mountain bikes and soon electric cars, and that it is tapping into the entertainment and sports sectors.
Yahoo had bought property in Santa Clara for $106 million in 2006, when the company's revenue was still growing and the site was estimated to accommodate more than 12,000 workers, said the report.
Yahoo had also got an approval to build up to 279,000 square meters of office or research and development space on the site, in 13 buildings. However, the construction never began.
Apart from LeEco, internet giants such as Google Inc and Apple Inc are said to be among the bidders.
LeEco declined to comment on this matter. Actually, the company stepped up its expansion in North America in recent years.
On April 28, LeEco announced it would establish its new 7,400-sq-m North American headquarters in San Jose, a facility that can accommodate as many as 800 employees. The headquarters is only 4.8 km from the site purchased from Yahoo.
It will also be the future home of LeEco's self-driving research center the LeFuture AI Institute, through partnering with Faraday Future, an electric-car company based in California.
Moreover, top talent engaged in research and development, products sales and management from Apple, Google and Samsung Electronics Co Ltd have also been attracted into LeEco's US office.
Pang Yiming, a senior analyst at Beijing-based Internet consultancy Analysys International, said: "Buying a massive piece of land in Silicon Valley, where many internet tech giants gather and is known for its unique talent, shows LeEco's dedication to keep step with world-class level."
LeEco could learn the most advanced technology and even attract top-level talent through establishing its headquarters in Silicon Valley, and to help expand in the North American market with its ecosystem of technology and content offerings, Pang added.
Industry sources said selling the property could meet some of Yahoo's cash demands and reduce its operating cost, which also reflects the decline of the traditional internet conglomerate and the rise of some new internet forces.
Ma Si contributed to this story.