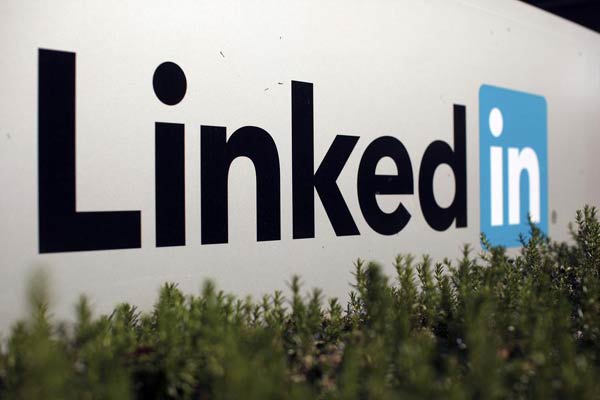 The logo for LinkedIn Corporation is seen in Mountain View, California, in this February 6, 2013 file photo.[Photo/Agencies]
The Beijing municipal government is trying to attract more top talent by working with the US-based professional networking company LinkedIn Corp.
The Beijing Economic-Technological Development Area, which was established in 1991, has about 9,000 enterprises with a total investment surpassing $40 billion. The majority of them are in high-tech industries such as electronic information, biomedicine and manufacturing.
"The core of a company's development is talent," said Zhang Fengmin, trade union chief of the BDA. "The top concern for us in past years has been how to meet the demand of companies in the BDA to recruit more high-end talent from home and abroad."
Zhang said the government expects to leverage the hiring capability of companies and enhance their competitiveness in the talent market through cooperation with LinkedIn.
Despite its popularity with private companies, it is the first time that LinkedIn has worked with government. Under the plan, LinkedIn will provide training courses to BDA companies' human resources departments, including how to build and market their employer brands, how to attract high-end talent and how to set up company pages on the LinkedIn website to connect with its 330 million global professional users.
Derek Shen, LinkedIn's China president, said this is just a beginning, since governmental bodies are paying much more attention to the competition for talent.
"With the development of the Chinese economy, the need for high-end talent from all over the world has become more urgent, especially in certain fields," said Shen. "China wants to attract more overseas talent and has become more interested in international recruitment models."
Fu Zhu, head of human resources at e-commerce giant Jingdong, said the traditional hiring channel is now facing the challenge of cost, quality and speed, and LinkedIn has provided a different channel.
"Generally speaking, we have different channels, including direct sourcing, agencies, online recruitment and employment references," said Fu. "Using traditional methods, we can only select from active candidates. But in China, more skilled employees are passive candidates."
Fu said social platforms like LinkedIn have provided different channels to seek passive candidates. "Besides, there is a lower possibility of faking resumes on platforms like LinkedIn because everyone they worked with would know. This would jeopardize their whole career."