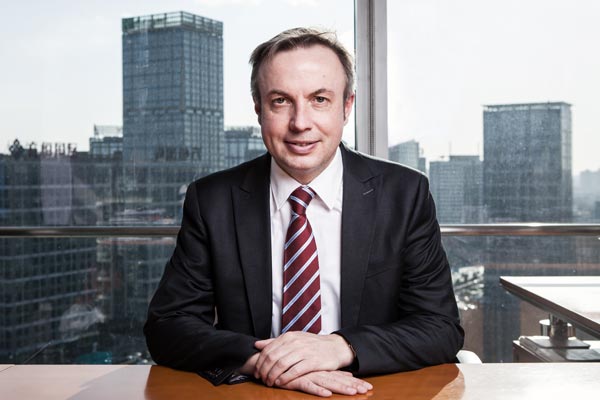 Juergen Hartwig, executive vice-president of Daimler Greater China Ltd. [Photo / provided to chinadaily.com.cn]
Easier access to global positions has consolidated multinational companies' advantage in the competition for talent in China, said Juergen Hartwig from auto giant Daimler AG, which was picked as one of the top 30 best employers in 2014 in a recent survey.
About 10 percent of the company's Chinese new staff members, including technicians and management trainees, will get annual opportunities to work at Daimler in Germany, said Hartwig, executive vice-president of Daimler Greater China Ltd.
"We increased the number of Chinese working in Germany by 100 percent in 2014," he said, adding that they were sent there to receive more training, as well as to help the companies in Germany and the US make better decisions involving the Chinese market, the world's largest automotive market.
In addition to the easier opportunities to work worldwide, the good welfare package, working environment, leadership style and career prospects have jointly acted as a magnet for Chinese talent, he said.
The group has kept local recruitment stable at a high level for years, staying at 450 in 2012, 400 in 2013 and growing to more than 600 this year, while the turnover rate has been kept below 6 percent.
Affirming the advantages of working at foreign enterprises, many Chinese university students have also listed other draws like modern management methods and the importance attached to individual working abilities.
In a Dec 12 survey by online recruitment portal Zhaopin, which also released the list of 30 Best Employers, which included Daimler, about 36 percent of the university students polled picked foreign companies as their first choice for jobs.
Still, foreign-invested companies in China seem to have lost some of their shine in recruitment. Some employment reports released in July and August showed that these companies, which were highly regarded and accounted for 70 percent of the top 50 best employers in 2004 selected by human resources company ChinaHR.com, dropped to 30 percent in 2014.
Daimler's Hartwig said his company has noticed the drop. Scarcity of talent is a general problem, and the group has taken measures to attract job seekers through multiple channels, including social media like Weibo and WeChat.
It has also posted 700 internships in Beijing this year, offering opportunities to learn and train in the company.
"China is the most important and strategic factor for Mercedes-Benz in the future," he said, referring to one of the group's most famous marques. "With large investment, we will keep attracting talent."