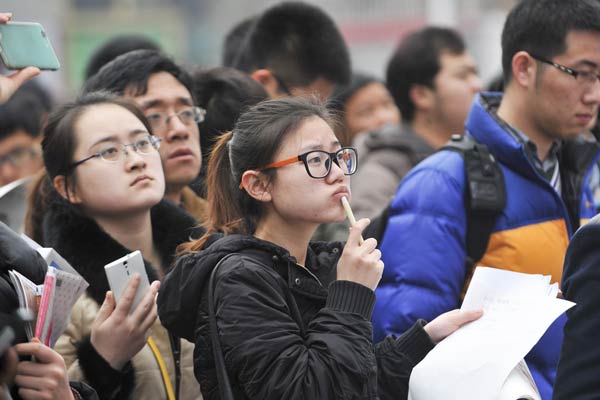 Graduates seek prospects at a job fair in Hangzhou, Zhejiang province. They face tougher challenges in a slower economy. YANG XIAOXUAN/CHINA DAILY
Amid a slowdown in the country's economic growth, the good times for job hoppers might also be coming to an end.
Job hoppers are those who frequently change jobs in a two-year span, according to global recruitment consultancy Robert Walters.
In 2005 and 2006, when China was expanding its market and a large number of multinational companies were moving their regional headquarters to first-tier Chinese cities like Shanghai and were in need of talent, job hoppers could easily find new jobs.
But the good old days are gone, said Angel Lam, associate director of commerce and finance, human resources, supply chain and operation businesses of Robert Walters.
Employers started to shun the job hoppers in 2012, and the trend became more apparent in 2013 and this year.
"About 90 percent of our clients will simply reject the candidate if they find traces indicating job hopping in the resumes. They wouldn't even give an interview," she said.
There are basically three major reasons for people to change their jobs. The first one is for higher salaries. Candidates could easily see their salary increase by 50 percent back in 2005, but that time has also passed.
Meanwhile, a salary increase is no longer the top reason for candidates to switch jobs, according to a survey by recruitment service provider BRecruit, as only 5.19 percent of the 36,600 candidates surveyed said higher pay was the top reason for changing jobs.
The second reason is for a better title. The third one, according to Lam, is that the candidate was unhappy about the organization he or she worked for. For example, the candidate was unhappy with a boss or peers, or was unable to complete the job as assigned, finding it too difficult.
"The last reason was the most noticeable after 2009, when the global financial crisis also hit China. Companies started to find in 2011 that the job hoppers they had hired could not solve the problems because they left their previous post for this reason. Over time, companies have learned the lesson and come to know what exactly they want," she said.
The usual time span for candidates to change a job should be between four to six years, especially for middle to senior management candidates, as they have to demonstrate progress to their employers over this period of time, according to Lam.
Usually, the candidate will adapt to all the changes in the job in the first year, make some fine tuning in the second year, speed up his or her progress in the third year and start to seek more stable development in the ensuing years. Only in this way can the employee improve adaptability, gain persistence and grasp basic skill sets required for the job, Lam said.
Wang Yongfei, director of the recruitment business department of the Shanghai-based multinational human resources service provider FESCO Adecco, suggested that candidates evaluate their job stability and work experience before deciding to change jobs.
"For Internet companies, the job-hopping period is usually one to one and a half years. Apart from this fast-growing industry, the job-hopping period for other industries is suggested to be between three to four years at least," Wang said.
"Candidates should make sure that their job hopping frequency is within such a period. Otherwise their career development will be largely affected."