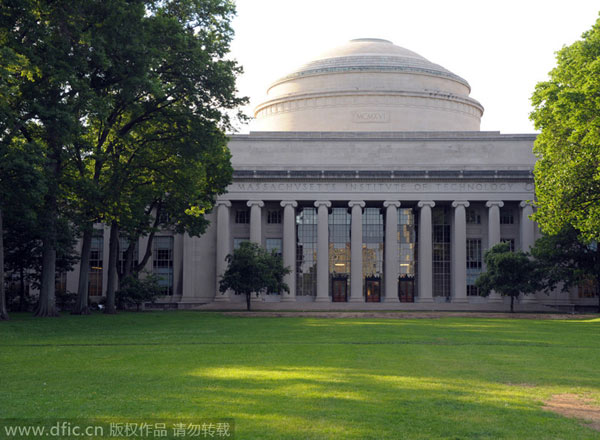 The main building of Massachusetts Institute of Technology is seen in this file photo.[Photo/IC]
More than 25 percent of the foreign students enrolled at US colleges are Chinese, but these alumni have a disproportionate record of giving back to their alma maters.
The Chinese mainland ranks eighth as a source of foreign donations to American colleges, while Hong Kong ranks No 1, according to The Wall Street Journal.
The top eight sources of donations on the list are Hong Kong, the United States, Canada, India, Saudi Arabia, Switzerland, United Arab Emirates and China.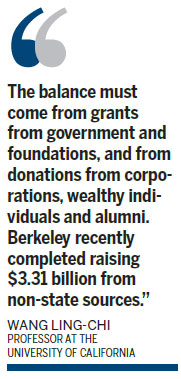 The $60 million that Chinese donors gave to US universities between 2007 and 2013 accounted for only 3.5 percent of total foreign donations, according to the Postsecondary Education Participation System in the US, the Journal reported.
But experts are optimistic that a rise in giving to US universities by the rich in China will occur. They believe that as more Chinese students graduate abroad, their attitude toward donations will change.
Unlike in other regions, the concept of studying abroad started a mere 30 years ago in China, said Leslie Yuen, CEO of the Globalization Training Office, adding that he believes that a culture of giving to colleges will be cultivated among wealthy Chinese after two or three generations.
"Donating money, large and small sums, to American elite private colleges and universities has a long history," said Wang Ling-chi, who helped establish the Asian American Studies program at the University of California, Berkeley and taught its first course in 1969. Wang added that fundraising has become the most important job for any university president.
According to Wang, UC Berkeley now receives about 10 percent of its annual budget from the state of California. "The balance must come from grants from government and foundations, and from donations from corporations, wealthy individuals and alumni. Berkeley recently completed raising $3.31 billion from non-state sources," Wang said.
But a donation culture has not been well-established among tue Chinese since most universities in China are fully supported by the central government and sometimes even provincial governments, Wang said.
As globalization continues to influence China, however, the country has caught up fast with donations from corporations and wealthy individuals, though many donors still prefer to give to their hometown universities rather than foreign ones.
For example, the infusion of money by the late rubber magnate Tan Kah Kee into many universities in Fujian province set the stage for the Chinese philanthropists who followed him in the 1960s and beyond.
But recently, business tycoons from the mainland as well as Hong Kong have made huge contributions to top American universities.