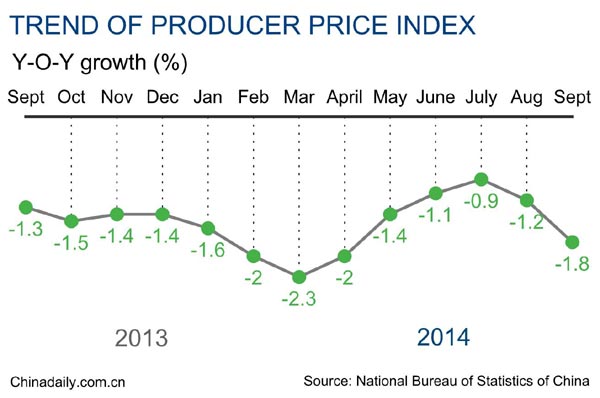 BEIJING -- China's producer price index (PPI), which measures inflation at wholesale level, dropped 1.8 percent year on year in September, the National Bureau of Statistics said on Wednesday.
The PPI declined for the 31st straight month and in a faster pace than the previous month, marking existing pressures from slowing economic growth.
The PPI dropped 1.2 percent year on year in August, 0.9 percent year on year in July, 1.1 percent in June, 1.4 percent in May, 2 percent in April and 2.3 percent in March.
Factory prices of production materials went down 2.4 percent in September, contributing 1.8 percentage points to the PPI drop, while factory prices for consumer goods gained 0.1 percent.
In the first nine months, the country's PPI dropped 1.6 percent year on year, the data showed.