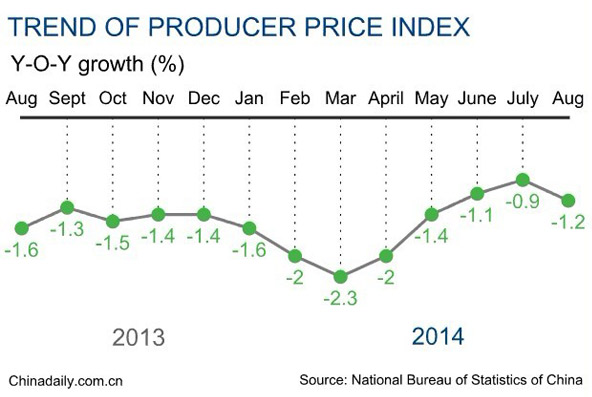 BEIJING - China's producer price index (PPI), which measures inflation at wholesale level, dropped 1.2 percent year on year in August, the National Bureau of Statistics (NBS) said on Thursday.
The PPI declined for a 30th straight month and at a faster pace than the previous month, confirming pressure from slowing economic growth.
The PPI dropped 0.9 percent from a year ago in July, down from 1.1 percent in June and 1.4 percent in May.
Factory prices of production materials declined 1.7 percent in August, contributing 1.3 percentage points to the PPI drop, while factory prices for consumer goods gained 0.2 percent, data showed.
Yu Qiumei, senior statistician of the NBS, attributed the decline to price falling for a series of industrial products and material. Prices of crude oil and oil products ended a rising streak and started falling in August, while prices of coal, steel, concrete and cement remained on a losing track.
Bucking the trend, producer prices in 30 sectors rose on a month-on-month basis. Prices in food processing and medicine production increased in August, with non-ferrous metal smelting climbing for a fourth straight month.
In the first eight months, the country's PPI dropped by 1.6 percent year on year, unchanged with the Jan-July period, the data showed.
Yu said the market will continue to have a grim outlook as overcapacity still weighs on industrial product prices.
China's economy expanded 7.4 percent year on year in the first half of 2014, showing strong resilience after a disappointing start to the year.
Premier Li Keqiang on Wednesday also said China can meet its major economic goals this year and that policymakers will not be distracted by short-term fluctuations of individual indicators.
The data came along with the release of the consumer price inflation index, which eased to 2 percent in August.