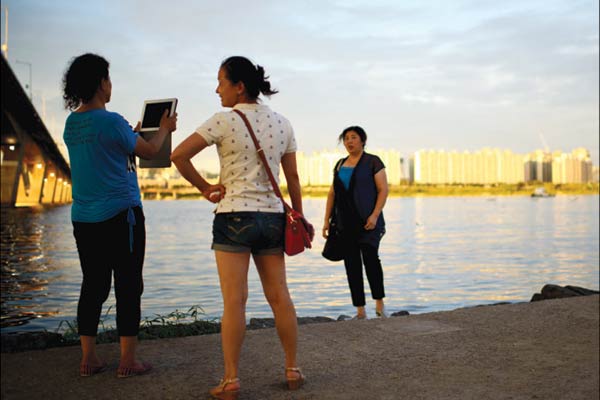 Chinese tourists take photographs by the Han River in Seoul. South Korea is one of the countries in the region being targeted by Chinese hotel chains as leisure and business travel from China continues to rise.[Photo/Agencies]
Mid-range chains expand across Asia, spurred by Chinese tourists
China's express or midrange hotel brands are rapidly expanding across Asia, propelled by the impressive growth of Chinese outbound tourism.
In 2011, Jinjiang Inn, a major express hotel brand founded in 1996 in Shanghai, took a step toward overseas expansion through partnership with Oishi, a Philippines-based company best-known for its snack brands. This marked the first overseas Chinese express hotel to be built on a grand scale.
In January 2014, Jinjiang Inn granted a franchise to Maspion Group, an Indonesian company, which became the fourth offshore location of Jinjiang as it expanded its overseas markets. In November, the firm ventured into South Korea by opening a hotel in Myeong-dong, targeting Chinese tourists in the commercial area of Seoul.
With the rapid development of China's economy and rising wages, the number of outbound trips has also increased. China has emerged as the biggest outbound tourism market in the world.
Based on data from the National Tourism Administration, the total number of Chinese taking outbound trips reached 98.19 million in 2013, growing 18 percent year-on-year. Outbound tourists from China are projected to exceed 100 million this year.
Express hotel brands have been growing rapidly in the domestic market, but the thriving outbound tourism market has also stimulated overseas growth and prompted some firms to pursue brand licensing agreements with offshore partners.
"We are mainly focusing on mid-range hotels in our overseas expansion. And many investors in Southeast Asia are willing to introduce our brand into the local hotel market," says Wu Shenshen, deputy director of investment development at Jinjiang Inn.
"The method of cooperation with our Philippine and Indonesian partners is brand licensing," says Wu. "Our regional agent in Indonesia is now looking for a hotel location in Jakarta and Bali, which are hot destinations for many Chinese tourists."
Based on Jinjiang Inn's 15-year brand license agreement with Maspion, the Indonesian company will develop no fewer than five hotels in the first three years and at least 10 hotels in the first five years.
"Although the tourism market in Southeast Asia is very large, we are very cautious about our investment and select partners very carefully," says Wu. He explains that his firm does not directly invest in hotels in Southeast Asian countries.
"We just export our brand, dispatch our management teams to help our partners to open a new hotel and give them guidance about hotel management methods. Our partners pay royalties to us, and they are self-financing."
Jinjiang Inn has met some challenges in the process of its overseas expansion. Wu cites the Philippines as an example.
"We signed a cooperation agreement with our Philippine partners in 2011," he recounts. Owing to unstable political ties between China and the Southeast Asian country, his company's hotel project with its Philippine partner is moving very slowly, he says. However, two hotel projects in Manila are expected to be finished in 2015.
GreenTree Inn, a business hotel chain in China, has also expanded overseas. It opened its first branch in Dhaka, the capital of Bangladesh, in March 2014, and is now eyeing Southeast Asia.