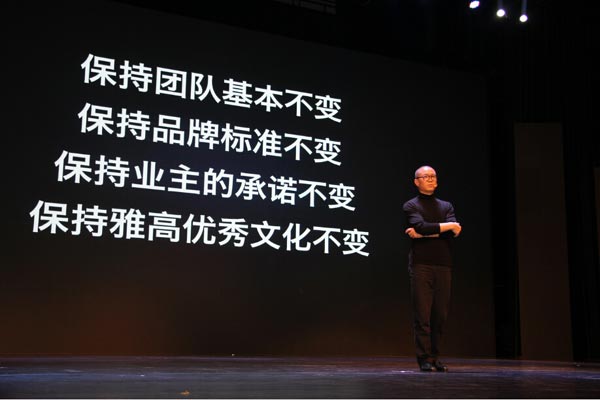 Ji Qi, founder and chairman of Huazhu,talks at a recent conference in Shanghai, Dec 19, 2014. [Photo provided to chinadaily.com.cn]
Chinese hotel operator Huazhu Hotels Group Ltd. has signed an extensive alliance with French hotel brand Accor, which is believed to further help accelerate both companies' expansion in and out of China.
China is currently one of the fastest growing domestic travel markets and the world's largest outbound travel market.
According to their agreement, Accor will continue to run all its luxury and other upscale brands in China, including Sofitel and Pullman, while Huazhu will hold a 10 percent stake in Accor's luxury and upscale business in China and will help support its future development in the country by cashing in on its relationships with key Chinese real estate investors. Accor will take a 10 percent stake in Huazhu and will have a seat on Huazhu's board of directors.
The alliance will offer the Accor's and Huazhu's 47 million active customers access to a network of over 5,600 hotels globally, said Ji Qi, founder and chairman of Huazhu.
"With an extensive brand portfolio, and strong distribution and loyalty platforms, Accor and Huazhu share a lot of common values," said Ji. "By combining forces we can facilitate growth and attract more customers to the expanded network."
Huazhu, after its first attempt in going overseas through alliance with the French hotel brand, said it's not denying further development in the United States and other parts of North America in the future.
According to Ji, the company is interested in exploring Taiwan, Hong Kong, Macao, Korea, Mongolia, and South East Asia, but the primary focus of the company is still the Chinese mainland. He says that the company will grow and expand after steady business growth domestically.
Accor currently has 144 hotels in China. Huazhu operates more than 1,900 hotels in China, covering the full market from upscale, mid-scale and economy.
"This ground-breaking collaboration will leverage the strengths of Accor's global brands with a leading player in Chinese hospitality,"said Sebastien Bazin, chairman and CEO of Accor. "Joining Huazhu's unparalleled local expertise with our brands will create a hospitality powerhouse which will deliver unprecedented value to both groups and to our customers."
Bazin said that because China is currently the largest outbound tourism market in the world, creating one of the largest hotel groups in China will lead to growth globally as those travelers will recognize the Accor and Huazhu brands.
"This agreement will also help us better anticipate customers'expectations and strengthen our leadership in the Chinese market over the long term," said Bazin.
Together the two companies are planning more than 500 new hotels in the region and the alliance is expected to further accelerate development to new levels and see faster expansion of Accor's brands in China, according to Sebastien Bazin, Chairman and CEO of Accor.