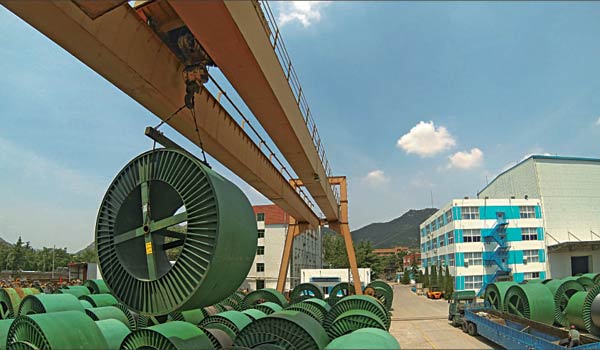 Electrical cable being loaded for shipment at a Qingdao Hanhe Cable Co Ltd unit in Africa.[Photo provided to China Daily] 
Electrical cable maker reaps sustained gains from overseas expansion
To many Chinese businesses, Africa is like a training ground to get them ready to function in Western markets. But some find that does not work. Qingdao Hanhe Cable Co Ltd is one of them.
As a supplier and partner of many big multinationals, including Germany's Siemens engineering, UK-Australian mining firm Rio Tinto Group and energy giant Royal Dutch Shell, Hanhe Cable has worked smoothly with companies from developed countries.
"Some companies see experience in Africa as helpful for them to enter the more regulated Western markets, but for us, Africa is not just a training ground," says Zhang Huakai, chairman of Hanhe Cable.
The company has found that Africa is actually more complicated and challenging, Zhang says.
"Every region has its own characteristics. We have worked well with many Western companies, but Africa is still unfamiliar and unknown to us. Doing well in developed countries does not mean we will definitely do well in Africa."
Hanhe Cable, based in Qingdao, Shandong province, is engaged in research and development, production and operation of cables, wires and related equipment. It makes hightech cables for optical, telecommunications, nuclear power and other uses.
Zhang says China's power industry and businesses that make equipment for it have made great strides during the country's rapid economic development in the past three decades.
Hanhe Cable was established in 1982 in Qingdao's Laoshan district, formerly an isolated area that is now a developed part of the city. Hanhe Cable rose from a small company with only a few people to what is now a big, listed company. It had sales last year of about 6 billion yuan ($979 million), and it has more than 3,000 employees. It also has eight subsidiaries in China.
"We can make 500 kW high-voltage cable, 320 kW direct current cables, and also marine cables, all world-leading technologies, so we are very capable of going overseas in terms of technology," he says.
Zhang says that since China is restructuring its economy, future domestic demand will be smaller and growth slower, so companies need to develop new markets and sales outlets. Overseas markets, especially Africa, will be an important part of the company's future growth.
"Africa is the world's hotspot now, and its infrastructure deficit urgently needs to be turned around. Since construction requires lots of electricity, cables would also be in great demand," he says.
"Our products are suitable for countries where large-scale infrastructure creation and improvement is needed, so we see great potential in this market." In the past few years, Zhang says, Hanhe Cable has done market research in many African countries and has gained many African clients. Its products are sold in many African countries, such as Nigeria, Ghana, South Africa, Botswana, Tanzania and Angola. The company exports products worth 300 million to 400 million yuan directly to African countries, while others are exported through Chinese builders, Zhang says.
The company has also set up offices in Ghana, Nigeria and Tanzania and works with local partners. It sends people to its offices three or four times a year, where they stay for one or two months. But that is still not enough for the company to run the business without some help.