Diversified investments in the sub-Saharan region show nation's commitment to maintain strong economic ties with fast-growing region, reports Du Juan.
Africa continues to be the beacon for China's outbound investment, with companies committing to cumulative investments of about $150.4 billion in the Sub-Saharan region from 2006 to July 2014, despite the marginal slowdown in actual investment to the region, according to a new report.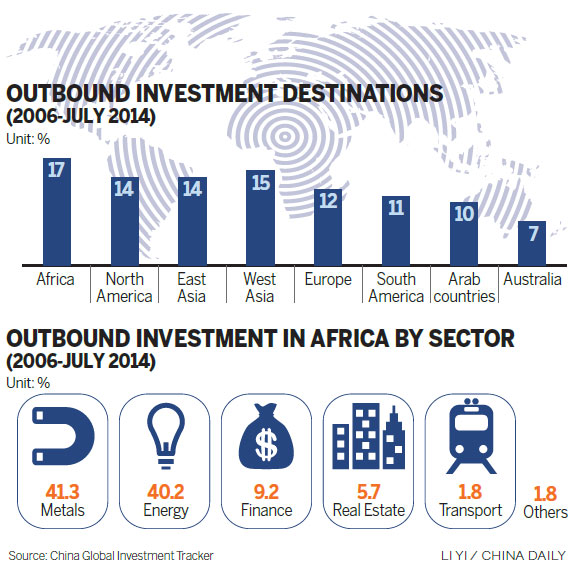 The China Global Investment Tracker, published by the Washington-based American Enterprise Institute and the Heritage Foundation, says the investment pipeline continues to be robust in Africa, with actual investments in the region rising to $19.49 billion by the end of 2013, compared with $5.54 billion in 2006 when China started its "going global" strategy.
The report also finds common ground with a recent white paper published by the government on China's economic and trade cooperation with Africa, which said that China's investment in Africa grew at an annual rate of 20.5 percent between 2009 and 2012.
Most of China's outbound investments in Africa have centered on the metals and energy sectors which accounted for more than 80 percent of China's outbound investment in the region, according to a separate report published by the Chicago, United States-based Mayer Brown, a global legal service provider.
Actual investments to Africa slowed slightly during the first six months as China is looking to diversify its investment sectors and geographies. According to AEI data, China's outbound investment to Africa amounted to just $1.9 billion during the first six months of this year.
"The drop-off can be explained partly by a moderation of China's appetite for resources as economic growth slows, and also due to an increase in risk-aversion among national resources and energy companies," said the report.
Ge Xiangyang, a partner with Mayer Brown, said that has not stopped a flurry of deals by Chinese private companies in Africa.
"For private companies, the driving force undoubtedly is the better returns that Africa offers," Ge said.
Unlike the SOEs, private companies with an eye on Africa are also more cautious about the possible risks, said Wang Jiahua, executive vice-president of the China Mining Association.