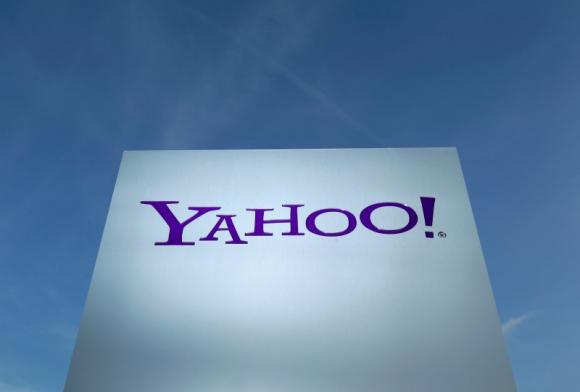 A Yahoo logo is pictured in front of a building in Rolle, 30 km (19 miles) east of Geneva, in this file picture taken Dec 12, 2012. [Photo/Agencies]
Yahoo Inc pledged to pay its shareholders at least half the proceeds from Alibaba Group Holding Ltd's mega-IPO this fall and plans to keep a larger stake in the Chinese e-commerce company than expected.
Yahoo's roughly 24 percent stake in the world's largest Internet retailer is viewed on Wall Street as its most prized asset. On Tuesday, it said Alibaba had agreed to reduce the number of shares Yahoo is required to sell in the IPO to 140 million shares from 208 million previously.
That news helped offset the US company's disappointing results on Tuesday. Yahoo also forecast third-quarter net revenue, excluding fees paid to partner websites, of $1.02 billion to $1.06 billion, less than the $1.1 billion Wall Street analysts had expected on average.
"What you see is the fundamentals at core Yahoo continue to deteriorate, but there's at least some good news on the Alibaba front," said Macquarie Research analyst Ben Schachter.
"The idea is that Yahoo shareholders can participate and benefit from the upside to Alibaba post the IPO, as opposed to just having to sell more stock in the IPO."
Alibaba is expected to list its shares on the New York Stock Exchange later this year in what could be the largest ever US technology initial public offering. Investors have valued the company, which handles more e-commerce than Amazon.com Inc and eBay Inc combined, at as much as $200 billion.
Finance Chief Ken Goldman said in a statement accompanying Yahoo's results on Tuesday that the company was committed "to return at least half of the after-tax IPO proceeds to shareholders."