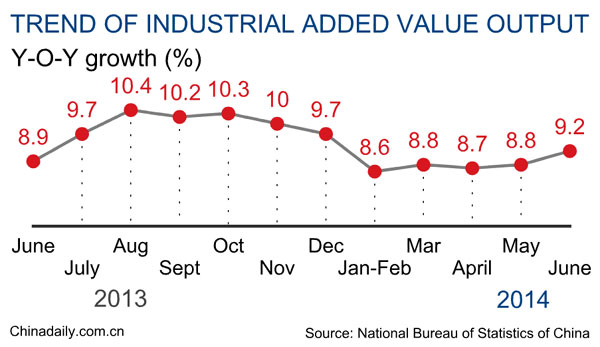 BEIJING - China's industrial production growth quickened in the first half of 2014, showing signs that the world's largest "workshop" is warming up.
The National Bureau of Statistics (NBS) said on Wednesday that value-added industrial output in the country expanded 8.8 percent year on year in the January-June period, accelerating from an 8.7 percent increase in the first quarter.
In June, output rose 9.2 percent, marking the fastest growth in the year.
Value-added industrial output in the manufacturing sector rose 9.9 percent in the first half following continuous improvement in the PMI reading in the last four months.
NBS data also showed that the value-added industrial output of state-owned and state-controlled enterprises saw a 5.5-percent growth year on year in the six-month period, while that of joint stock companies expanded by 10.2 percent.
The bureau said output grew by 8.4, 8.8 and 10.8 percent in east, central and west China respectively.
China uses value-added industrial output to measure business activities of designated large enterprises each with an annual turnover of at least 20 million yuan ($3.26 million).
From January to May, total profits of such enterprises grew 9.8 percent year on year to 2.28 trillion yuan, speeding up from a 9.4-percent increase in the January-February period.