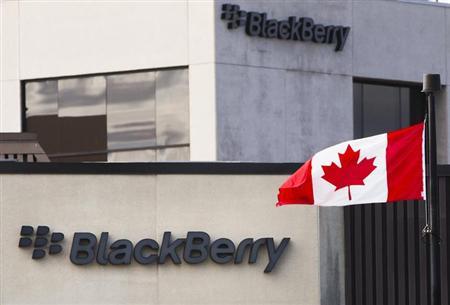 A Canadian flag waves in front of a Blackberry logo at the Blackberry campus in Waterloo, Sept 23, 2013. [Photo / Agencies]  
Lenovo Group Ltd will "actively consider" acquisitions in the mobile consumer electronics industry, said Yang Yuanqing, chairman and chief executive officer of the world's largest personal computer maker.
Yang's remarks came amid reports that the Chinese company is in talks with embattled BlackBerry Ltd on a merger possibly worth $4.7 billion.
"Mergers and acquisitions are always useful tools for us to expand business into new markets, and we are open to deals that can boost our business," the CEO said on Friday.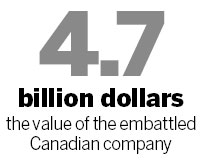 Lenovo, headquartered in Beijing, has long been rumored to be an active bidder for BlackBerry, which has been losing ground to Apple Inc and Samsung Electronics Co Ltd in the high-end smartphone sector.
In mid-October, The Wall Street Journal reported that Lenovo signed a nondisclosure deal to examine the books of the Canadian smartphone maker, which could pave the way for a possible acquisition.
The Chinese company is borrowing roughly $1.5 billion from banks for the deal, Reuters said.
"We have to prepare enough fodder for the next move," Yang told reporters. But he refused to confirm the BlackBerry bid.
Other potential suitors are said to include Google Inc, SAP AG and Facebook Inc.
"BlackBerry's patents and channel partner resources are valuable assets for Lenovo," said James Wang, a Shanghai-based analyst at research firm Canalys.
Telecom operators are the biggest smartphone sellers in developed economies, and Lenovo needs such resources if it wants to enter US and European markets, according to Wang.