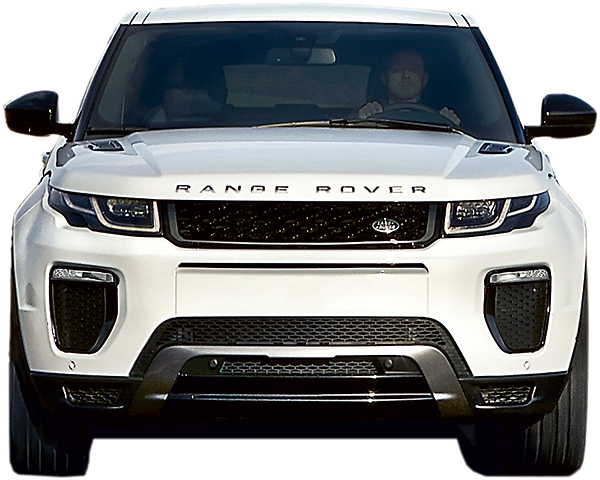 Jaguar Land Rover's Range Rover Evoque. [Photo provided to China Daily]
Copying common
JLR is not the only automaker whose designs have been copied in China. Hanteng, a new auto brand, has a badge which has a red inverted trapezoidal in a silver circle, reminding people of Italian automaker Fiat's logo.
Zoyte's two models, the T600 and Z500, echo the designs of the Volkswagen Tiguan and Honda Accord, and JAC's Refine A6 looks like the Audi A6.
International brands seldom take legal action, however. Zhang Zhiyong, an independent auto analyst in Beijing, said legal action is meaningless commercially as the different marques target different customer groups, and media coverage could make the copycats better known.
It can also be a long and exhausting process, as in the case of Japanese automaker Honda Motor, who filed a lawsuit in 2004 against Shuanghuan, claiming that its S-RV copied the design of Honda's best-selling CR-V.
The case lasted 12 years before Honda finally lost the battle, with the verdict saying the two designs are not similar. In a separate suit, Honda was ordered to pay 16 million yuan in compensation to Shuanghuan as it argued that the negative publicity surrounding the CR-V lawsuit resulted in the poor sales performance of its model S-RV.
Zhang said: "Appropriate imitation is a step that many automakers, both Chinese and international, take during their development, but a serious player should come up with their own designs instead of cashing in by copying successful models."
Profit-driven copycats are becoming objects of ridicule among Chinese consumers, especially the middle-class, with many on social media calling the acts of automakers like Shuanghuan shameful.
A Beijing-based editor who prefers not to be named said that automakers including Land Wind and Zoyte are too focused on money to ignore that they are in fact cultivating fans for international brands. "People who now drive a Land Wind X7 will definitely buy an Evoque when they can afford it," he said.