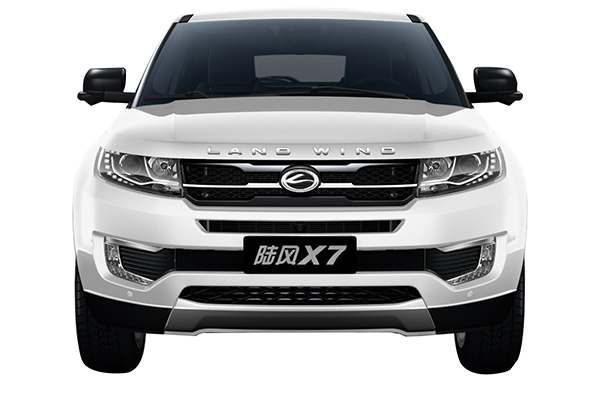 Jiangling's Land Wind unveiled its X7 SUV. [Photo provided to China Daily]
Legal effect of revocation not yet known
Two design patents involved in a lawsuit Jaguar Land Rover filed against Chinese automaker Jiangling for allegedly copying the design of its popular SUV have been canceled in China, which has caused many jaws to drop and may discourage actions to protect intellectual property.
Jiangling's Land Wind unveiled its X7 SUV in November 2014 at the annual Guangzhou auto show and has since been the target of criticism for the vehicle's striking resemblance to JLR's Range Rover Evoque, although it only costs less than one-third of the latter's price.
It is difficult for most people to tell one from the other if their logos are concealed-both SUVs have a similar shape, with the roof and windows tapering from front to back, and near identical tail lights and character lines on the side paneling.
The slight differences can be virtually eliminated by adding Range Rover grilles, logos and Land Rover badges, which are widely available. Reports say such kits at shopping website Taobao cost around 128 yuan ($19.43).
Both automakers have been granted patents for their designs in China, with the one to JLR authorized in 2012, a year and a half earlier than the Jiangling patent.
While there is no information about the latest progress of the suit, China's top intellectual property agency has canceled the patents involved in the legal proceedings.
A notice on the website of the State Intellectual Property Office shows that JLR submitted an appeal in July 2014 to revoke the Jiangling patent, and Jiangling asked for JLR's patent to be revoked in February 2015, and both patents were canceled on June 3.
The reasons are that Jiangling's design of the X7 is not significantly different from JLR's Evoque but Evoque's design had been made public before its patent application was made in November 2011.
Yale Zhang, managing director of Shanghai-based Automotive Foresight, said he was surprised to learn of the cancellations.
"If both are invalid, why were the patents given in the beginning?"
Despite a pending ruling from the court, the message from the intellectual property office is now simple and clear: Evoque's design is not patented in China, so Land Wind can go ahead selling its cars without infringing on its rival's rights.
JLR declined to comment on the issue.