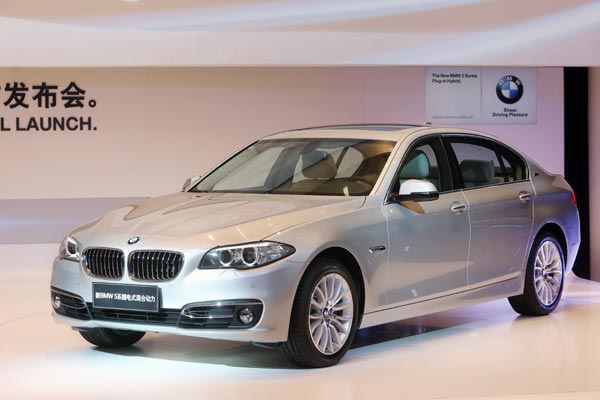 Photo provided to China Daily 
BMW Brilliance unveiled its plug-in hybrid 530 Le in the Chinese market priced at 698,600 yuan ($114,524).
The model is 5,055 mm long, 1,860 mm wide and 1,481 mm tall, with its wheelbase reaching 3,108 mm. Sporting a 2.0-liter Twin Power Turbo engine and 8-speed automatic gearbox, it has a top output of 160 kW and a maximum torque of 310 Nm. Its electric motor has a top output of 70 kW and a maximum torque of 250 Nm.
A zero to 100 km/hour sprint takes it just 7.1 seconds, with the mdoel's top speed reaching 233 km/hour.
Due to advanced technology, it boasts the lowest fuel consumption in the premium business sedan segment, 2 liters per 100 km, and the lowest carbon dioxide emissions of 49 g/km
In electric drive mode, the 530 Le can accelerate to a top speed of 120 km/h and has a range of 58 km.
The car is the first plug-in hybrid premium business sedan in the country that combines luxury and prestige with efficiency and environmental friendliness, according to BWM Brilliance.