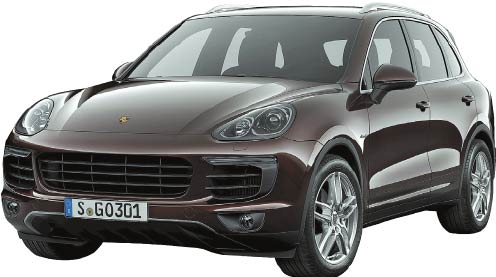 After its world premiere at the Guangzhou auto show, Porsche's new Cayenne officially hit the Chinese market last week, demonstrating the guiding Porsche credo of "Intelligent Performance" through a combination of high performance and everyday practicality.
Priced between 972,000 yuan ($158,000) and 2,214,000 yuan, the new Cayenne customized for the Chinese market is equipped with a 3.0-liter V6 supercharged engine and direct fuel injection technology delivering an output of 333 hp. It can go from zero to 100 km/h in 6.9 seconds, and reach a top speed of 239 km/h.
The Cayenne S, featuring a 3.6-liter V6 bi-turbo engine, accelerates from a standing start to 100 km/h in 5.5 seconds, reaching top speed at 259 km/h. And the top model, the Cayenne Turbo with a 4.8-litre V8 bi-turbo engine, accelerates from 0 to 100km/h in 4.5 seconds and reaches a peak speed of 279 km/h. The Cayenne S E-Hybrid is the first plug-in hybrid in the premium SUV segment.