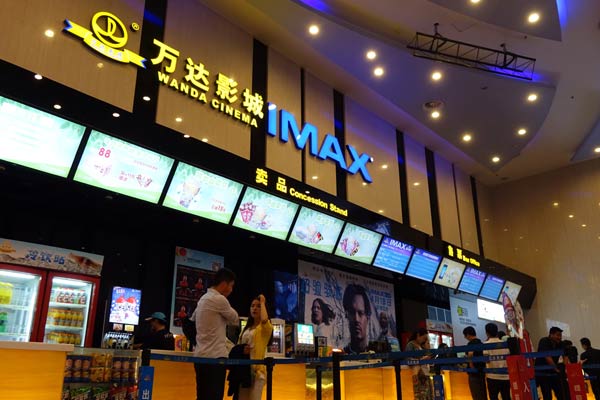 A Wanda cinema in Zhengzhou, capital of Central China's Henan province, July 11, 2014. [Photo/China Daily]
Wanda Cinemas' listing on Thursday may help Wang Jianlin, president of Dalian Wanda Group, to take back his position as the richest Chinese, 21st Century Business Herald reported Friday.
The company set its IPO price at 21.35 yuan ($3.43) per share at Shenzhen Stock Exchange, and it soon increased to 30.74 yuan by daily limit, making the company's market value reach 17.2 billion yuan on the first trading day.
The rise in market value made Wang's shares valued at 10.4 billion yuan, as his family holds 60.71 percent stock shares of Wanda Cinemas, according to the company's prospectus. If the Cinemas' share reaches 60 yuan, Wang's value could be 20.6 billion yuan, the newspaper said.
Analysts believe that Wanda Cinemas' share could rise to 60.62 yuan, based on the company's performance on the first day.
Both Wanda Cinemas Co Ltd and Wanda Commercial Properties are two business arms of the Dalian-based Wanda Group.
Wanda Commercial Properties was listed at the Hong Kong Stock Exchange on Dec 23, 2014. It was the largest IPO at the Hong Kong Stock Exchange in 2014, the newspaper said, citing Wang Jianlin's report at Wanda Group's annual meeting on Jan 17.
The property company's stock closed at HK$47($6.06) on Thursday, pushing Wang's stock value in the company to 90.3 billion yuan, according to the newspaper.
Combining Wang's stock value in the property company and the increase potential to 20.6 billion yuan for his listed shares in the Cinemas, his stock value would surpass that of e-commerce giant Alibaba's founder Jack Ma, China's richest man ranked by Hurun Report, which compiles the widely followed Chinese rich list.
The newspaper said the stock value of Jack Ma on Thursday was 101.5 billion yuan, with 6.3 percent stake in the company's listed shares on the New York Stock Exchange.
Ma topped the list in September, 2014, replacing Wang Jianlin in 2013.