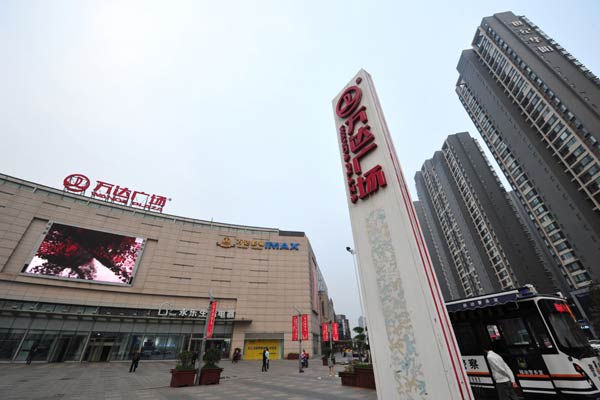 Wanda Plaza in Luoyang city, Central China's Henan province, Oct 11, 2014. [Provided to China Daily]
As Wang Jianlin, the high-profile chairman of conglomerate Dalian Wanda Group, sat down with investment bankers and potential investors in Hong Kong on Monday to discuss the proposed $3.9 billion initial public offering of his commercial property unit, excitement and anticipation heightened among capital market circles.
While much of that excitement stemmed from Wanda's impending float, it was also partly to celebrate Hong Kong's growing prowess as an important global IPO destination.
Dalian Wanda Commercial Properties Co Ltd last week got the green light from the Hong Kong bourse officials for its 600 million new share issue, which most analysts expect to be priced between HK$41.8 ($5.38) apiece to HK$49.8.
To some extent that could also explain the huge crowd of potential investors, fund managers and investment bankers, who flocked to the grand ballroom of the JW Marriot Hotel in the city. While excitement was visible on most faces, there were some investors who said the prices were a tad too high for their liking, due to the high gearing of the mainland property sector.
However, some analysts said that the company had already factored this in when it decided to trim its float size from $10 billion as initially planned. But even at its current size, the company's float will still be the largest issue in Hong Kong this year.
Though much of the attention is centered on Dalian Wanda, there are other big floats that will debut soon in Hong Kong.
Leading the pack would be the Beijing-based automaker BAIC Motor Corp, which plans to raise $1.6 billion. China General Nuclear Power Group recently raised $3.16 billion from its IPO in Hong Kong.
All put together, listings by mainland enterprises, including forthcoming issues later this month, would put the total amount of capital raised on the Hong Kong bourse to more than $26 billion, putting it in second position after the New York Stock Exchange in global ranking, according to Dealogic.
As part of its listing plan, Dalian Wanda has already reached agreements to place shares worth $2 billion to several cornerstone investors, including China Life Insurance (Group) Co, Ping An Insurance (Group) Co of China Ltd, the Kuwait Investment Authority and the American hedge fund Och-Ziff Capital Management, FinanceAsia reported on Sunday.
"I would not say the valuation is very attractive," said Carol Wu, head of research at DBS Vickers (HK) Ltd.
"I would compare (Dalian) Wanda to China Resource Land Ltd. Anything higher than CRL's valuation would make me think twice. Of course, Wanda is big, but CRL has obvious funding advantages based on its State-owned background," she said, stressing pricing is not based solely on size.
The problems faced by many mainland property developers, big or small, are well documented. Overbuilding of commercial real estate and insufficient demand have pushed inventories and vacancy rates to very high levels, especially in most of the lower-tier cities.
Dalian Wanda is not an exception. Analysts said the company will find it hard to realize aggressive growth from its current core businesses.
However, some fund managers said they would still subscribe to Dalian Wanda share issue because the company is among the largest on the mainland and has a wide network across the nation.
The high end of the price band would value Dalian Wanda at $24.7 billion, making it the world's second-largest commercial property developer, after Simon Property of the United States, and ahead of Australia's Westfield.
Kaven Tsang, a senior property analyst at Moody's Investors Service Inc, said: "We gave Wanda Commercial Property Baa2 credit rating in a recent report because we deemed it to be a strong and stable player in the industry. Its steady rental income helps to make its financial condition better than many other mainland property firms."
Gladdy Chu in Hong Kong contributed to this story.