Wenzhou is the only city that saw a year-on-year decline in new housing prices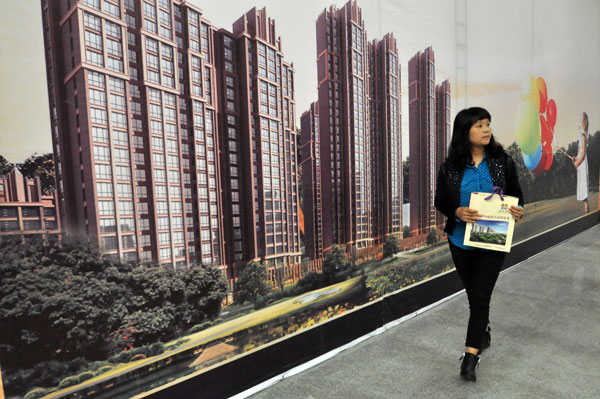 A potential homebuyer visits a housing event in Handan, Hebei province. Average month-on-month new home prices in Beijing, Shanghai, Guangzhou and Shenzhen rose 1.4 percent, while that of 31 second-tier cities averaged 0.7 percent, and the prices in 35 third-tier cities rose 0.6 percent. Hao Qunying / For China Daily
Prices of new and secondhand homes continued to rise in most Chinese cities in September, led by first-tier markets and some second- and third-tier ones, according to official data released on Tuesday.
The National Bureau of Statistics reported that of the 70 major cities it tracks, 65 saw a month-on-month rise in the price of new homes in September, while prices in two other cities declined, and those in the remaining three were flat.
The data cover mid-sized and large cities, including Beijing, Shanghai and provincial capitals.
Luzhou, a city in the southwestern province of Sichuan, showed the largest monthly gain, with prices up 1.9 percent, the NBS said.
On a year-on-year basis, Wenzhou in Zhejiang province was the only city to show a decline, with new home prices down 1.8 percent.
Beijing, Shanghai, Guangzhou and Shenzhen had the largest year-on-year increases, with gains of 20.6 percent, 20.4 percent, 20.2 percent and 20.1 percent, respectively.
The increased prices were a direct outcome of high transaction volumes, which surged in the traditional peak season of September after slowing in July and August.
Housing sales reached 1.4 million square meters in Shanghai, up 59 percent month-on-month and 77 percent year-on-year, as first-time homebuyers and upgraders returned to the market, according to research from Jones Lang LaSalle.
Analysts also suggested that the large year-on-year increases reflected a low base of comparison.
Housing prices have continuously risen since last October, noted Liu Jianwei, a senior statistician with the NBS.