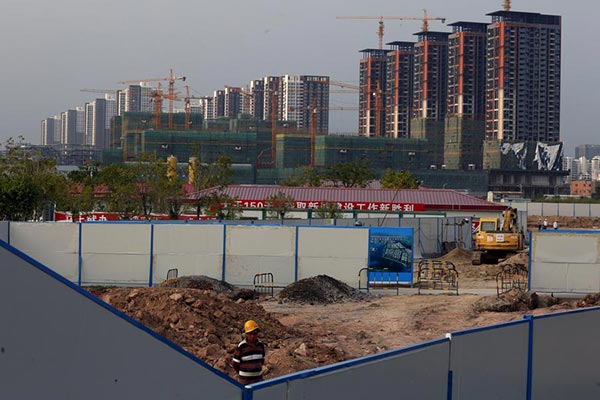 High rise residential flats are under construction in the southern city of Shenzhen, September 11, 2015. [Photo/Agencies]
BEIJING - China's land costs continued climbing in the first quarter with prices in top-tier cities surging the most amid a heating up property market.
Prices of land for residential use jumped 1.27 percent during January-March from the previous quarter, while prices of land for industrial development increased 0.73 percent, according to the Ministry of Land and Resources (MLR).
In general, land prices increased 0.96 percent, 0.22 percentage points higher than those recorded in the previous quarter.
Zhao Song, director of the land price division of the China Land Surveying and Planning Institute of the MLR, said top-tier cities led the increase, with residential land costs surging rapidly.
Second-tier cities followed suit, and third-tier cities have seen prices stabilizing, he noted.
Latest home price data suggested an uneven recovery in China's housing market, with prices in first-tier cities such as Shenzhen and Beijing soaring while those in some smaller cities are still under pressure.
Zhao Song said the frenzied market in the top-tier cities have sped up the land price increase in other parts of the country.
To cool down the sizzling property market, a number of local municipal governments have released tightening measures including raising the down payment requirement and putting stricter lines on obtaining mortgages.