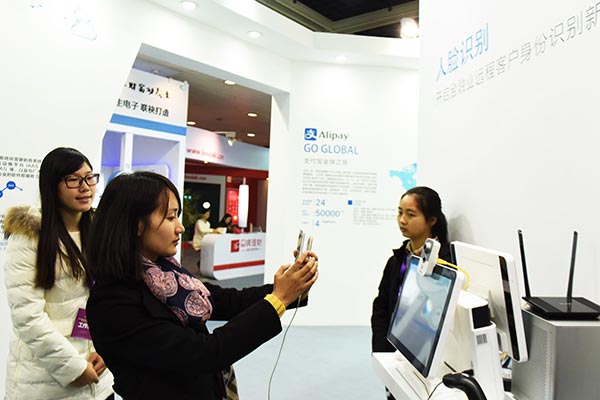 A visitor experiences a facial-recognition device at Ant Financial's stand at an internet finance expo in Hangzhou, Zhejiang province. LONG WEI / FOR CHINA DAILY
Ant Financial is now targeting a private round of financing for $3.5 billion
Alibaba Group Holding Ltd's finance affiliate is planning an initial public offering on Shanghai's main board in what could be China's highest IPO valuation since 2010, according to two people familiar with the matter.
Zhejiang Ant Small & Micro Financial Services Group Co has been profitable for three years, enabling it to meet the listing requirements, and may begin the process as soon as this year, the people said, requesting not to be named because the matter is private.
The owner of Alipay, the mainland's most popular payments system, prefers a dual listing with Hong Kong if it gets regulatory approval, the people said.
Ant Financial, which is controlled by Alibaba founder Jack Ma, dominates payments on China's biggest e-commerce platforms through Alipay and also manages Yu'ebao, the nation's largest money-market fund.
The company is currently targeting a private round of fundraising for at least $3.5 billion at a valuation of about $60 billion, people familiar with the matter said in April.
Ant Financial declined to comment in an e-mailed reply.
China's stock listing rules require companies to be profitable for at least three years and accumulate a profit of more than 30 million yuan ($6.29 million).
The entities also need to generate accumulated cash flow of at least 50 million yuan, or post a total of 300 million yuan for revenue in the latest three years, according to the regulations.
Ant Financial meets those measures, said the people, who have direct knowledge of its earnings. The people didn't say how much the company would seek to raise or at what valuation it would have at listing.
An IPO at a $60 billion valuation would be the biggest on the mainland since Agricultural Bank of China Ltd listed in Shanghai in 2010.
Ma, China's second-richest man according to the Bloomberg Billionaires Index, said last year he was open to a Hong Kong listing if regulators welcomed it.
Alibaba's own plans to list in Hong Kong in 2014 were derailed because the city wouldn't waive a ban on multiple share-class structures and the e-commerce operator instead held a record IPO in New York.
Alibaba is entitled to about one-third of Ant Financial's stake with regulatory approval, according to a 2014 filing to the US Securities and Exchange Commission. Alibaba has perpetual rights to 37.5 percent of the finance arm's pretax earnings until it acquires the stake, the filing said.
Ant Financial paid Alibaba 502 million yuan in the December quarter, compared with 411 million yuan a year earlier, according to an Alibaba filing. That implies Ant Financial had pretax profit of at least 1.3 billion yuan for the period. The company posted net income of 333 million yuan in 2011, according to filings from the local branch of the State Administration for Industry and Commerce.
An alternative option would be for Alibaba to receive a one-time payment equivalent to 37.5 percent of the value of Ant Financial determined prior to its IPO, which would amount to at least $22.5 billion based on its current valuation.