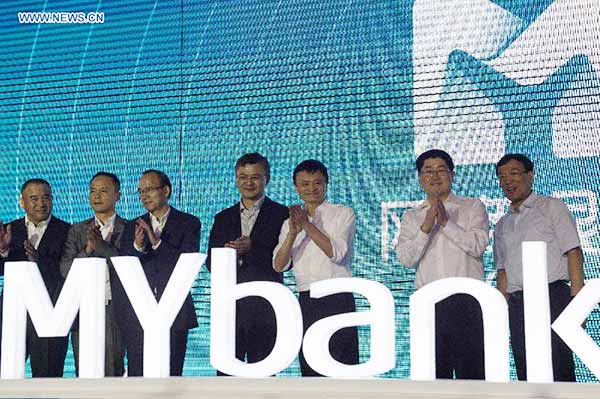 Jack Ma(3rd from right), founder and chairman of China's e-commerce giant Alibaba, attends the opening ceremony of MYbank in Hangzhou, capital of East China's Zhejiang province, June 25, 2105. MYbank has a registered capital of 4 billion yuan ($655 million). The bank will center on financial services for small and micro business, as well as online consumers through the Internet platform. [Photo/Xinhua]
BEIJING - An Alibaba-backed private lender said on Monday that its focus on providing financial services to clients who are underserved by traditional banks has resulted in billions in loans to small businesses and individuals over the past eight months.
E-commerce giant Alibaba holds a 30-percent stake in MYbank through its financial arm, Ant Financial. MYbank said it has lent a total of 45 billion yuan (around $6.88 billion) to farmers, merchants on Alibaba's online marketplace, restaurant owners and mom-and-pop stores, extending loans to 800,000 borrowers that have trouble accessing financing through traditional banks.
In the eight months since it opened for business last June, MYbank's loan balance has grown 30 percent each month on top of a client base that has been expanding 12 percent for the past five months.
Its rival, Tencent, also runs a private lender called WeBank based in the southern Chinese boomtown of Shenzhen. Neither lender has a physical presence, instead providing services online or through mobile applications.
They are among a group of private lenders approved by the Chinese banking regulator under a trial program to encourage lending to the country's small and private businesses and the rural population.
China's large, state-owned banks have been more inclined to lend to big, state-owned companies as the implicit guarantee they have from the government has made lending to such firms almost risk-free.
Smaller companies and individuals don't have such backing, and without adequate credit records, banks don't know how much risk they are exposed to when lending to these companies.
MYbank has tended to lend to companies and firms that have historically been underserved by big banks, while WeBank has focused on consumer credit and wealth management. Both touted their ability to accurately evaluate clients' creditworthiness based on their online activity, in addition to information gathered through traditional due diligence work.
MYbank didn't disclose the aggregate amount of credit extended to farmers, but said average credit for rural household across 2,425 villages in 24 provinces stands at 44,000 yuan.