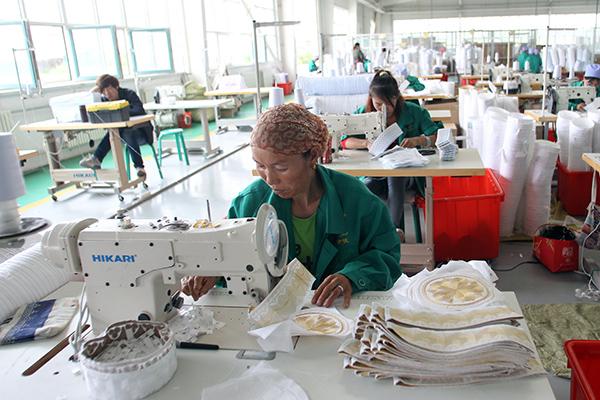 A woman uses a sewing machine that produces taqiyah (prayer caps for Muslim men) at a clothing manufacturing company in Yinchuan, Ningxia Hui autonomous region. [Photo/China Daily]
A 67-year-old Muslim entrepreneur in Northwestern China's Ningxia Hui autonomous region is finding new opportunities for his family clothing business along the Silk Road Economic Belt.
Yang Faxiang started his company in the 1990s with a few dozen sewing machines, making ethnic costumes and clothing for Hui people. Later, as cross-cultural exchanges and trading increased between China and the Middle East, he found a welcoming foreign market for his products.
His company, Wuzhong Wantini Ethnic Clothing Co, established its first overseas store in Saudi Arabia in 2012.
"The store functions as a wholesale headquarters for the company in the Middle East, since traders from other countries in the region go there to restock. It also helps us to brand our company, showing our designs for Muslim clothes," Yang said.
Last year, the company's sales revenue reached 24 million yuan ($3.66 million), with 60 percent coming from foreign markets. Yang expects revenue to double this year.
The Belt and Road Initiative "will make the ties between China and the Middle East closer, which will benefit our business," he said. "President Xi Jinping visited three countries in the Middle East in January, which has given us strong encouragement."
Yang said he hopes Xi's visit will result in some preferential policies for Chinese businesses in the Middle East, where he has found visas to be costly and challenging to get due to the short times involved.
Financial services in the Middle East also are difficult for foreign businesses to obtain, so he hopes more banks will provide help for small-business owners.
Competition among Chinese producers is fierce in the Middle East, Yang said.
"Some clothing companies from southern China can provide the same quality with lower prices, since their logistics costs are less than those for companies in northern China," he said. This has "brought challenges to us, but we will continue to make efforts because the market is promising".
Ma Jun, a senior manager at the company who is in charge of foreign marketing, said the company is considering opening stores in Sudan and Qatar.
Yang chose Wuzhong, a city in central Ningxia, for his business because it is one of the major settlements in China for people of the Hui ethnic group. More than 55 percent of Wuzhong's population is Muslim, and many companies have located Muslim clothing businesses there.
In November, Ningxia Hengfeng Group, a clothing company with an investment of 150 million yuan, was established in Wuzhong. The company is expected to provide 2,000 jobs when it begins production by the end of the year.
The company foresees an annual production capacity of 5 million robes for Muslims, and it intends to export them to Saudi Arabia, Turkey and the United Arab Emirates.
Guo Shaoyu contributed to this story.