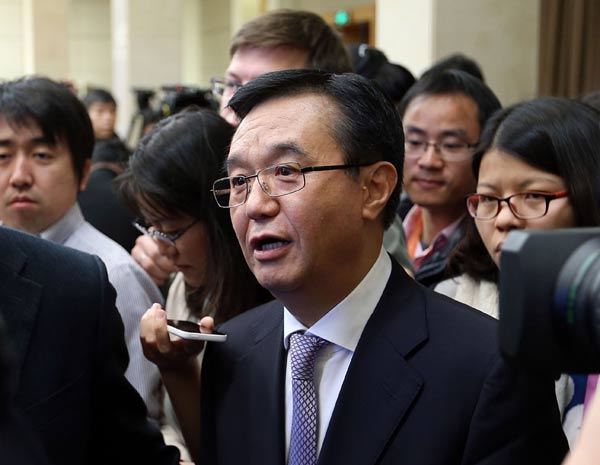 Minister of Commerce Gao Hucheng talks with reporters after a news conference in Beijing on Tuesday. WANG ZHUANGFEI / CHINA DAILY
Special zones in countries and regions along routes have created 950,000 jobs
With more than two years of development, the Belt and Road Initiative has proved to be a practical tool for driving regional connectivity and cooperation in the current global business setting, China's top commerce official said on Tuesday.
Thanks to the initiative, China so far has established 75 overseas economic and trade cooperation zones in 35 countries and regions, Commerce Minister Gao Hucheng told a news conference in Beijing.
These zones have paid more than $100 billion in taxes to governments in host countries over the past four years, and they created 950,000 jobs by the end of last year, he said.
Gao said that under the initiative, more highways, railways and air routes have been built in partner countries, and China will further integrate resources, policies and markets to connect with the outside world.
The Belt and Road Initiative refers to the Silk Road Economic Belt and the 21st Century Maritime Silk Road initiatives, which were proposed by China in 2013 to improve cooperation with countries in Asia, Europe and Africa.
"The initiative can further integrate China, allowing more parts of the country to gain the benefits of its opening-up policy," said Gao.
China has strengthened cooperation with partner countries such as Pakistan and Saudi Arabia in the fields of infrastructure, shipping, energy, transportation and trade.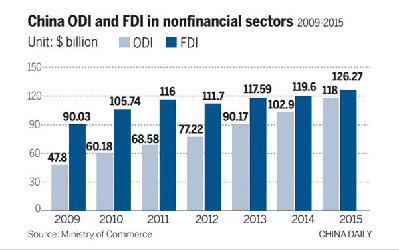 The country's imports and services improve the economies of its trade partners and bolster its own economy.
The commerce minister also said China's domestic consumption will continue to increase at a rapid pace this year.
Consumption contributed 66.4 percent of China's GDP growth last year, up 15.4 percentage points year-on-year.
Li Jian, a senior researcher at the Chinese Academy of International Trade and Economic Cooperation, the think tank of the Ministry of Commerce, said that even though the development of the Belt and Road Initiative is still in its early stage, it could generate economic benefits among the countries involved, since many of them seek new market growth points.
With tons of cement shipped to Jakarta, Indonesia, chemical equipment delivered to the Doha port of Qatar, and construction machinery bound for Addis Ababa, Ethiopia, through the port of Djibouti, China COSCO Shipping Corp, the country's largest shipping company, will deploy more resources and manpower in countries along the Belt and Road routes to maintain stable growth.
Xu Lirong, chairman of China COSCO Shipping, said that in addition to shipping business, the company will also develop logistics, industrial equipment manufacturing and financial and shipping services in countries along the Belt and Road routes, especially in Southeast Asia, Africa, the Middle East and East Europe, in the long term.