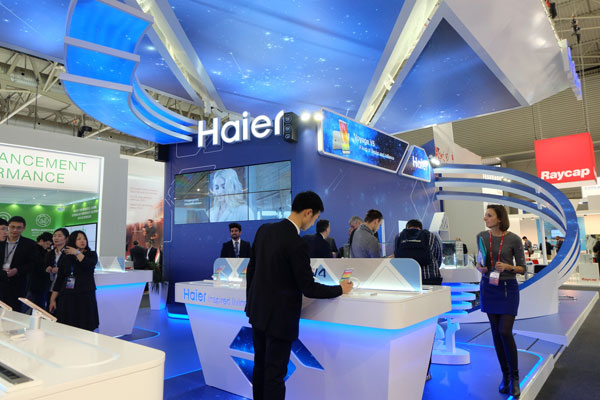 The Haier Watch, which goes on sale in the second half of 2016, can be connected to the Haier smartphone so users can remote control their phones. A view of Haier's stand at the Mobile World Congress. [Cecily Liu/chinadaily.com.cn]
Chinese tech companies on Tuesday showed off their innovation power at the world's largest mobile industry exhibition in their bid to challenge foreign giants.
Chinese white goods giant Haier Group showcased its new smartwatch at the Mobile World Congress in Barcelona, marking another milestone in the firm's expansion into the consumer products sector in Europe.
The Haier Watch, which will go on sale in the second half of 2016, is compatible with the Haier smartphone so users can read messages on their watches, monitor their health and control their phone cameras.
While the smartwatch market is already crowded with products from a number of well-established players such as Fitbit Inc, Apple Inc and Samsung Electronics Co Ltd, Haier is stressing that its products would be more affordable.
Pierre-Andre Denis, consumer electronics marketing and outsourcing manager for Haier Europe, said that the gradual rollout of consumer products in Europe is important for the company's brand-building strategy.
Initially, Haier aims to increase the sales of its smartwatches and smartphones so that later it can launch total home solutions, meaning it can help consumers connect their home appliances like refrigerators and televisions with wearables.
"Although our products are not connected with each other currently, we'd like to connect them in the future once our products are widely used, so we are now looking to build up market share," Denis said.
The company employs about 500 people in Europe, where Haier appliances have been sold for years.
The Qingdao, Shandong-based company ventured into the consumer and wearables products field three years ago with the launch of its smartphones.
Its smartphones are available in a number of European nations, including Italy, France, Germany and Luxembourg.
Denis said Haier's smartphones and smartwatches are similar to products created by other brands, but have more competitive prices.