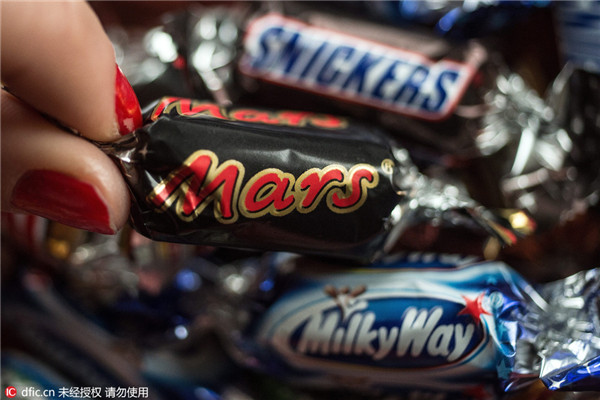 A woman takes a Mars bar from a box of Celebrations in Duesseldorf, Germany, 23 February 2016. Mars announced on 23 February it is recalling all Mars and Snickers bars in Germany as plastic parts might be found in some production lines. [Photo/IC]
COPENHAGEN -- Danish chocolate maker Mars has recalled a range of chocolate bars in 55 countries after a piece of plastic was found in one of its products, the company announced on Tuesday.
Products affected include bars of Mars, Milky Way, Snickers and Celebrations in various package sizes, with best-before dates from June 19, 2016 to Jan 8, 2017.
Mars announced the recall after a customer in Germany found a piece of red plastic in his Snickers bar on Jan 8.
The plastic was traced back to the Mars factory in the southern town of Veghel in the Netherlands. The recall only involved products manufactured at the Dutch plant, according to the company.
"We are investigating exactly what has happened, but we can not be sure that this red piece of plastic isn't in any other of our products from the same production line," said Eline Bijveld, Mars' corporate affairs coordinator for the Netherlands.
Founded in 1911, Mars is one of the world's biggest food companies with 29 chocolate brands. It has about 12 percent shares of the west European chocolate market.
It is the first time that Mars has had to recall products made at its Veghel factory, which opened in 1963 and employs about 1,200 workers.