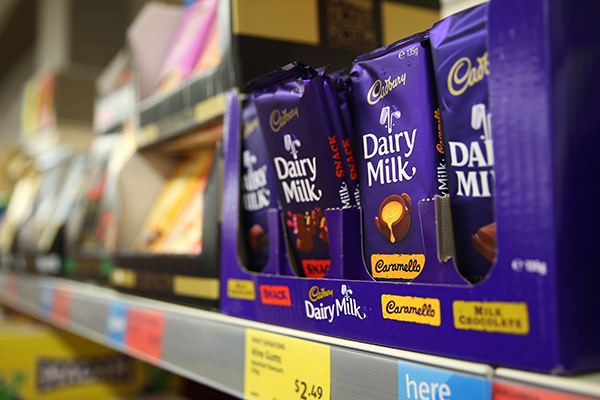 Bars of Cadbury Dairy Milk chocolates, a Mondelez International Inc product, on sale at an Aldi Stores Ltd food store in Sydney, Australia. [Photo/Agencies]
China's slowing economy, the government's anti-corruption drive and a change in consumer habits have been blamed for poor results
Global confectionary companies were once surrounded by the sweet smell of success. But times are changing as major brands report crumbling sales and tumbling profits.
For the second quarter of this year, Mondelez International Inc, which owns Cadbury chocolate products and Oreo cookies, announced a 9.2 percent drop in profit to $7.7 billion compared to the same period in 2014. Demand in the Asia-Pacific region, which includes China, fell by 5.5 percent to $1.02 billion.
"Consumption of chocolates has declined significantly in the past 12 months," Jason Yu, general manager of consumer market research company Kantar Worldpanel China, said.
"High-end chocolates with glossy packaging, which were excellent gifts, have seen a significant drop in sales due to the Chinese government's anti-corruption crackdown. Also, ordinary consumers now have more choices when it comes to snacks."
Mondelez is not the only major player suffering. Mars Inc, the world's largest confectionery maker with brands such as Dove, M&M and Snickers, has felt the chill of slowing sales.
Data from Euromonitor International Ltd, the privately owned market intelligence firm based in the United Kingdom, showed that Mars' market share dropped for the first time in China last year to 39.4 percent from 39.6 percent in 2013. Euromonitor has predicted it will shrink to 38.8 percent this year.
Hershey Co, an iconic brand in the US, saw its chocolate sales in China fall to $35 million in the second quarter of this year. As a result, Hershey globally reported a net loss of $99.9 million, while it made a net income of $168.2 million a year ago. "We have been disappointed with our performance in China so far," Steven Schiller, president of Hershey China and Asia, said.