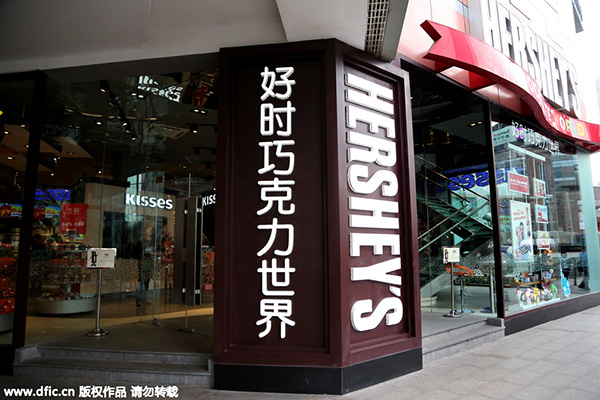 View of the Hershey's Chocolate World in Shanghai, China, March 11, 2015. [Photo/IC]
The Hershey Company has reported a net loss of nearly $100 million in the second quarter of this year after being hit by falling sales in China.
The United States-based chocolate giant came up with a mixed bag of figures with net sales dropping slightly to $1.57 billion compared to the same period last year. The second quarter net loss came in at $99.9 million compared to a net income of $168.2 million a year ago.
Net chocolate sales in China dropped $35 million during the same period.
"Results were seriously impacted by international performance, primarily in China," John Bibrey, chairman and CEO of Hershey, said at a conference call.
"As previously stated, macroeconomic challenges and changing consumer shopping behaviors in China were a headwind. Over the reminder of the year, we are optimistic that our core brand and new product initiatives in both North American international markets will drive growth."
Part of the problem was the sluggish performance of Shanghai Golden Monkey, which Hershey acquired an 80 percent stake in last year. So far this year, SGM's net sales and profitability have been significantly lower than initial expectations.
As part of the ongoing integration process, the company plans to increase promotional spending in the Chinese market.
Steven Schiller, president of Hershey China and Asia, said he is still optimistic about the country's economy and future growth for the chocolate maker. "The economy is cyclical and things come and go," he said.
He made it clear that China will still be one of the most significant markets for Hershey worldwide.