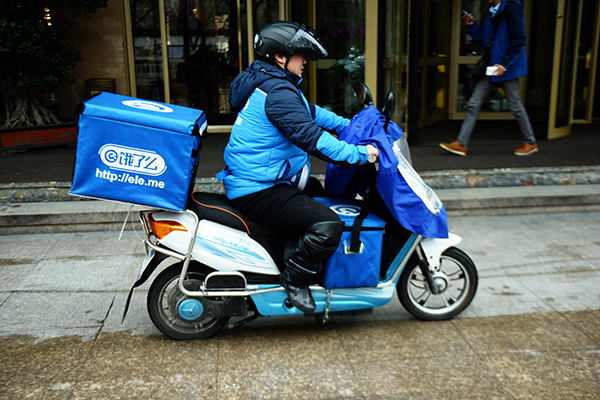 A delivery man for Ele.me in Hangzhou, capital of Zhejiang province. [Photo/China Daily]
Food delivery site ele.me announced on Wednesday that it has landed $1.25 billion investment from e-commerce giant Alibaba and its finance offshoot Ant Financial in a recent partnership agreement.
Ele.me, China's largest food delivery service provider, said in a statement that Alibaba invested $900 million in the deal and Ant Financial invested $300 million.
Under the partnership agreement, the three companies will have deeper collaboration, in which ele.me is expected to leverage Alibaba and Ant Financial's resources, including cloud computing, maps and payment.
Ele.me, which has a daily transaction of more than 100 million yuan($15.46 million), will be responsible for the operation of Koubei Waimai, a food delivery site under Ant Financial.
According to ele.me, its service covers more than 300 cities and gained more than 50 million users by the end of March.