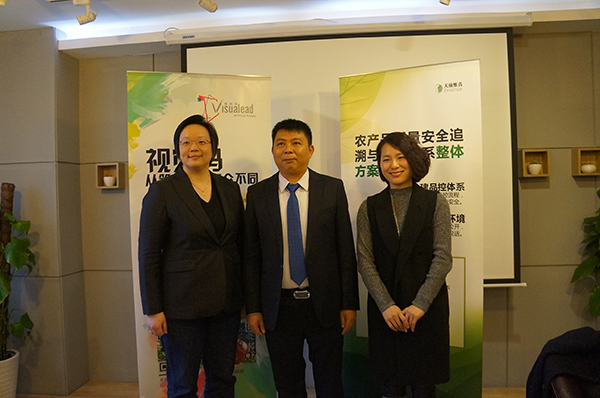 Zheng Xinli (M), chairman of Zhejiang Evoture, Li Dandan (R), Evoture's marketing director, and Joyce Tai (L), chief commercial officer of Visualead, pose for pictures. [Photo/chinadaily.com.cn]
Creating a system to trace the entire process of food and agricultural products going from field to table will be an effective way to solve the food safety problem in China, Zheng Xinli, chairman of Zhejiang Evoture Net Technology Co Ltd said.
China's new food security law took effect on October 1 last year, emphasizing the importance of detection, traceability and anti-counterfeiting technologies and pushing to establish a food quality traceability system.
The idea was echoed in the government report delivered by Premier Li Keqiang on March 5, the Chinese government vowing to speed up the development of unified and authoritative safety monitoring systems for food and pharmaceuticals and reinforce every line of defense from the farm to the dining table, and from the laboratory to the hospital.
Established in 2004, Zhejiang Evoture, China's leading farm produce quality control and traceability solutions supplier, provides brand protection and quality assurance solution to companies and local governments.
"We gather information about how products are produced, circulated and consumed ... strengthening food quality management and risk control," Zheng said, adding that the State Council also requires that all food products should be traceable by 2020.