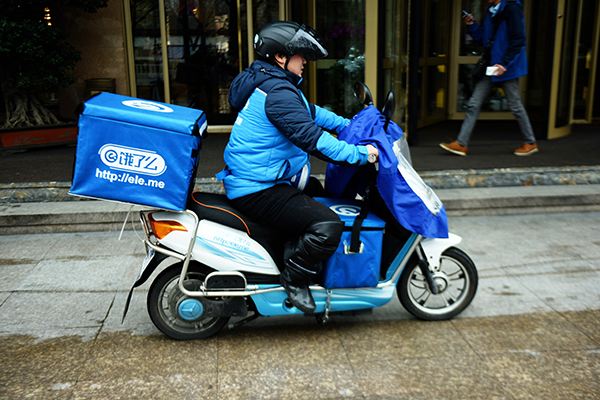 A delivery man for Ele.me in Hangzhou, capital of Zhejiang province. [Photo/China Daily]
The rapid development of China's online food ordering market has hit a bump, after the country's State broadcaster named and shamed the sector's biggest player on a widely watched TV program.
Ele.me, the online food ordering and delivery application backed by Alibaba Group Holding Ltd, has fallen under the spotlight after the program broadcast that it allowed unqualified vendors to sell food through its online platform.
The food and drug administrations in Shanghai and Chengdu, Sichuan province, both said on Wednesday they have launched investigations into Ele.me.
The Shanghai-based site, which handles food ordering and delivery to more than 300 cities in China, apologized to the public and vowed to take measures to rectify the situation.
"It is with a heavy heart, that I find that the company we are so proud of, has triggered such food safety concerns," said Zhang Xuhao, its chief executive officer in a statement on Wednesday.
He said the company will introduce stricter checks to safeguard food safety and carry out an investigation to make sure all the restaurants on its platform have qualified licenses to sell food.
Analysts suggested Ele.me's troubles, however, may lead to a rethink by many firms in the hyper-competitive Chinese online food ordering and delivery market on how they operate.
Lu Zhenwang, an independent Internet expert and the chief executive officer of the Shanghai-based Wanqing Consultancy, said the food-safety concerns will certainly cost Ele.me.
"The market as whole is still experiencing rapid development due to strong demand from China's estimated 200-300 million white-collar workers.
"So Ele.me's loss is going to be its competitors' gain," he said.
Statistics from the Beijing-based Internet consultancy Analysys International show that China's online food ordering and delivery transactions were worth 45.78 billion yuan ($7.03 billion) last year, three times higher than in 2014.
Its figures show that Ele.me just leads the market with a 33.7 percent share, followed by Meituan Takeout with 33.1 percent, and Baidu Takeout 19 percent.
"These three online food ordering and delivery apps are backed by China's largest Internet players Alibaba, Tencent Holdings Ltd and Baidu Inc. I'd say this cash-burning competition to win customers will last another two years," said Lu.
Zhang Jing, an analyst with China E-Commerce Research Center, said that the business of making, then delivering, food offline is a tricky model to get right.
"To ensure food safety requires cooperation between government authorities and the online ordering platforms," she said.
A survey released on Wednesday by Penguin Intelligence, an Internet-focused think tank affiliated to Tencent, showed that about 80 percent of 20,136 Internet users polled claimed they had suffered from false advertising when ordering food online, with the eventual food looking nothing like what was shown online.