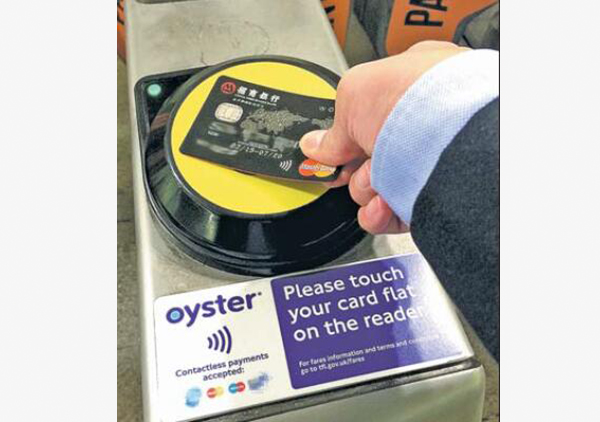 A passenger swaps a China Merchants Bank card supported by global payments company MasterCard to purchase a ride on a London subway. With rapid urbanization in China, MasterCard wants to help build smart cities in the country. [Photo provided to China Daily]
Digital payments, big data analytics and public-private partnerships will be key in the collaborative effort of building smart cities, said Ajay Banga, president and CEO of MasterCard.
"By embedding digital payments and harnessing the data that payments and usage generate, cities can become smarter and deliver on their mandate to citizens," Banga said at the ongoing China Development Forum in Beijing.
This is the sixth consecutive year that Master-Card global executives have been invited to participate in the annual forum with top policymakers and scholars from China and more than 500 global leaders.
While China's economy pivots toward consumption-led growth and away from its export-driven model of the past, the country is a leading actor in a rapidly urbanizing world, as its urban population may reach 70 percent in just five to seven years, the CEO said.
Realizing the importance of building cities that meets the need of increasing populations, MasterCard is committed to working closely with the Chinese government and other stakeholders to drive smart cities in a way that advances China's 13th Five-Year Plan (2016-20), he said.
An integrated payment collection across different modes of transportation will increase convenience and usability for both city residents and visitors. It would also lead to significant cost savings by streamlining ticketing operations, Banga said.
Digital payment
A convenient and efficient transportation system will also help build greener cities to align with the aspiration of China's 13th Five-Year Plan to reduce carbon emissions, he added. Digital payments also make government spending more efficient by creating better business management, accountability and budget planning.
While traceable electronic payments ensure compliance with spending policies and provide detailed records for pricing negotiations, they can also enhance the efficiency of government tax collection and reduce the likelihood of corruption, according to the company.
Cashless cities
Digital payments eliminate the hidden costs of cash. According to a study by MasterCard Advisors, the burden of cash usage costs as much as 1.5 percent of a country's GDP.
While cash today still accounts for 86 percent of retail payments in China, reducing dependency on cash can help the country maintain social stability while it continues to pursue economic growth, according to the company.
Digital payment will also help China on its journey to a more inclusive society, by being capable of providing citizens with access to basic financial tools and bringing more individuals into the economic fold, Banga said.
Fostering future growth
Payment data and analytics offer local governments the ability to manage transit capacity and improve urban planning, Banga said.
It can guide the flow of people around a city and make more efficient use of public resources and it also enables the prediction of commercial activity and movement around a city, he said.
This valuable information helps local and national governments create sustainable urban development plans that incorporate the use of housing, transport and energy. By unlocking the power of data, cities can be transformed.
Collaboration between partners across industries and geographies, as well as governments, high-tech companies and merchants, is essential to realizing the vision of better cities, Banga said.
During the forum, MasterCard also released a white paper titled "Making Cities Better and Making Better Cities" to provide tangible insights for both Chinese and global leaders faced with the increasing pace of urbanization.