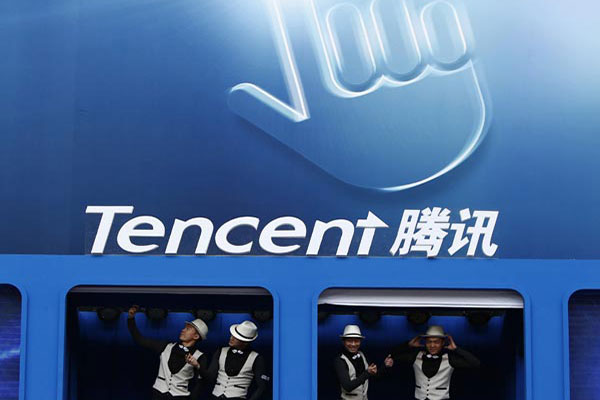 Dancers perform under a logo of Tencent Holdings Ltd at the Global Mobile Internet Conference in Beijing, May 6, 2014.[Photo/Agencies]
The combined brand value of Chinese enterprises rose significantly last year, with market-driven brands surpassing the State-owned enterprises (SOEs), said a survey.
For the first time ever, market-driven brands contributed more than half of the value of China's total brand value, an evidence of China's continuing transition to a market economy, said the 2015 BrandZ top 100 most valuable Chinese brands, released by global communications group WPP and global brand agency Millward Brown, in Beijing on Monday.
The total value of the 100 most valuable Chinese brands has rose 13 percent to $525.6 billion in the last year despite China's slowing economic growth, it said.
Tencent remains China's most valuable brand, increasing its value 24 percent to $82.1 billion, followed by China Mobile, Alibaba, ICBC, and Baidu, according to the survey.
"For 35 years the tide of extraordinary economic growth lifted many brands, but now the 'free ride' is over in today's rebalancing China," said David Roth, CEO EMEA and Asia, the Store WPP.
"The brands in the top 100 are not immune to economic and market influences, but the strongest have survived and even thrived."
Roth said brand strength is the key determinant for success for the Chinese companies.
"To grow in value in the coming years Chinese brands must invest more in being unique and innovative, and continue to make meaningful connections with consumers," he said.