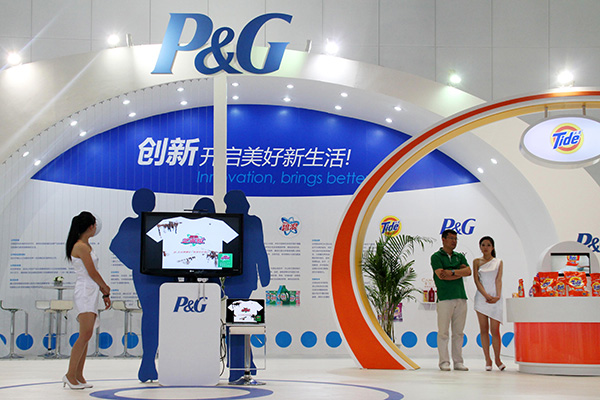 The booth of Procter & Gamble Co at an industry expo in Beijing. [Photo/China Daily]
Global household giant Procter & Gamble Co has committed to investing and growing in China to become more high-end, officials said Monday, pushed by increased competition from local brands and premium products.
At the end of last month, the US-based consumer goods firm reported quarterly net sales of $16.9 billion, a drop of 9 percent, which it blamed on the impact of foreign exchange movements.
China accounted for around 8 percent of all net sales, the lowest of the company's six major global markets.
The company had misread the growth of the Chinese middle class, and that had left the firm in a weakened position in high-end product categories.
For example, in diaper sales it faced major challenges from Japanese high-end products such as Kao Corp's Merries Tape diapers, and Goon, while in other product sales its growing rivals included China's Yunnan Baiyao toothpaste.
"China continues to be strategically important and a priority market for us and we are committed to investing and growing in this market," said Liang Yun, P&G director of communications in China.
She said P&G still believes the China market has huge potential as it shifts from being a manufacturing-led to a consumption-led economy, and as families are expected to grow due to the relaxation in October of its one-child policy.
In the short term, officials admit the rapidly changing Chinese consumer landscape has forced the company to destock in some areas.
That also meant it had to focus on introducing more innovation and investment in e-commerce, as well as raising its level of product, or "premiumization".
"Our early results are encouraging. Our e-commerce business has doubled in two years," Liang said.
P&G's priority as a group is to leverage the advantages of its massive global scale, while not losing its ability to act locally, responding for instance to the needs of the Chinese consumer, she said.
One of its key strategies is to enhance its product portfolio with more product innovations and premium offerings.